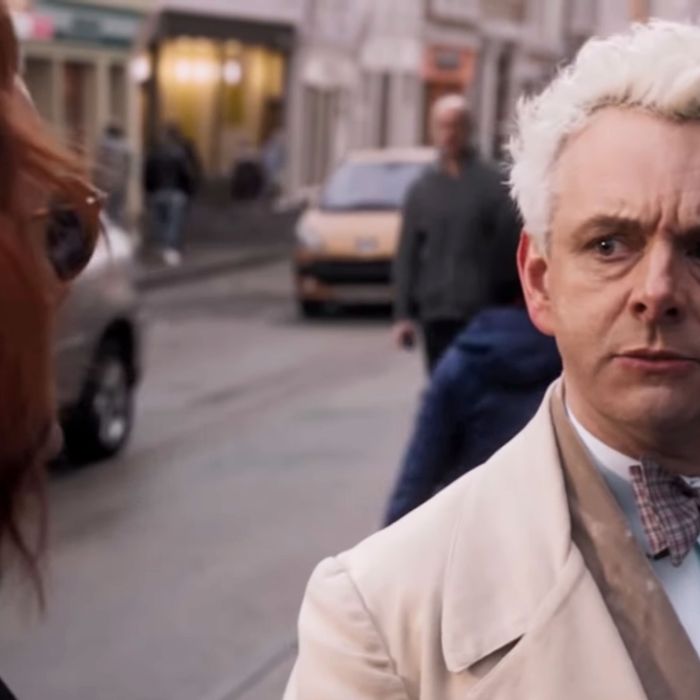 From the start, Good Omens has promised to show us the end of the world, and as we round the halfway mark, it seems determined to deliver on that promise. Strange doings are afoot, the sort of strange doings that are increasingly impossible to ignore and still believe life on Earth hasn't taken a turn for the apocalyptic. As the episode opens, nothing less than the lost civilization of Atlantis has made a return, to the surprise of a cruise captain played by David Morrissey and the delight of his passengers, who think it's all part of the entertainment. But while one ancient mystery might be explained away as a miracle, what to make of that nuclear-power plant whose inner workings have just sort of … disappeared? And what to make of the fact that it keeps working anyway? All that plus Tibetans digging tunnels beneath the Earth and aliens that land with warnings that humans should change their planet-destroying ways. It feels like, well, the end of the world.
Of course, only Adam's closest friends understand that he's been reading a stack of crackpot magazines that have filled his head with ideas about Atlantis, aliens and the like. He's worried about what it all means and whether or not he can do anything to push the world in the right direction. What he doesn't realize, at least at first, is that, yes, he can push the world in whatever direction he chooses, and is already doing so.
That direction seems inevitable to both Aziraphale and Crowley's bosses: war. And lots of it. Hell wants it. Heaven wants it, too. As Gabriel tells Aziraphale, if you don't fight, you can't win. And everything seems to be lining up for war this episode, too. Our tireless deliveryman brings in two more Horsemen: Pollution (who's taken over for the retired Pestilence) and Death (voiced by Brian Cox), who assures the deliveryman not to worry about his arrival. "Now don't think of it as dying," he says. "Think of it as leaving early to avoid the rush."
Speaking of leaving early, Crowley's considering skedaddling to avoid the apocalypse, maybe even leaving the planet. And while Tennant has largely played the demon as unflappable, he gets a great scene questioning what exactly God has in mind and asking for a little bit of mercy, asking, "You shouldn't test them to destruction." He's not counting on mercy, though, and after failing to convince Aziraphale to flee with him, he attempts to take matters into his own hands. This involves taking out one fellow demon Home Alone style and outwitting another, at least temporarily.
And that's not just any other demon, either. The show's already expansive cast grows this week with the addition of Hastur (Ned Dennehy), a Duke of Hell who appears to be in a perpetual state of annoyance and willing to kill just to reduce that annoyance a fraction. To be fair, he was expecting the Hellhound to show at Megiddo, and not a slightly dim American ambassador, his wife, and their bratty, decidedly not-the-Antichrist son. (Great place to get avocados, though.) Elsewhere, Aziraphale's not having much luck with one of his co-workers, Metatron (Derek Jacobi), a spokesman for God who seems to think talking to him is as good as talking to God. Aziraphale knows better, though it doesn't do him much good in his attempts to talk to the Almighty, or prevent an angry Shadwell from sending him to parts unknown when he shows up at Aziraphale's bookstore, convinced that Aziraphale is in league with the forces of darkness. Which is technically true, of course, but not in the way Shadwell thinks.
Elsewhere, Shadwell's apprentice, of sorts, is also busy, hooking up with Anathema Device as they both sense the world coming to an end. In some ways, it was unavoidable, having been prophesied and all. But what does it mean, the descendant of a witchfinder conjuring up all that passion with the descendant of a witch? That's a big TBD. Maybe. Adam seems to be slipping into his Antichrist role a little too enthusiastically, so we might not have that much time left.
This, as everything above suggests, is an extremely busy episode. And while it's also quite enjoyable, it's probably the shakiest the series has yet produced. It bounces all over the place in the service of one subplot after another, which isn't that big a problem. But the shortage of scenes between Aziraphale and Crowley is kind of a problem. Sheen and Tennant are both terrific on their own (and Sheen's especially fun in his one scene with Jon Hamm's Gabriel), but their friendship remains the heart of the show, which is essentially a buddy comedy set in the midst of the apocalypse. Surely they'll be reuniting again before too long, but if the series places the emphasis more on the swirling narrative than on the relationship between its central pair, the second half looks to be a notch down from the first. Which, of course, wouldn't be the end of the world, just a minor disappointment. As for the actual end of the world, more on that in the next episode, no doubt.
Welcome to the End Times
• This week we also get a fascinating glimpse at the John LeCarré–like play between demons and angels via Michael's use of backchannels to find out what Aziraphale is up to. I'd watch a spinoff about that.
• Which is the better absurdist touch: Crowley being contacted via a demonic cartoon, or the flashback to Aziraphale learning to dance?
• Best exchange:
"How can someone as clever as you be so stupid?"
"I forgive you."
• Best single line: "Things on the internet can be made up. This is magazines."