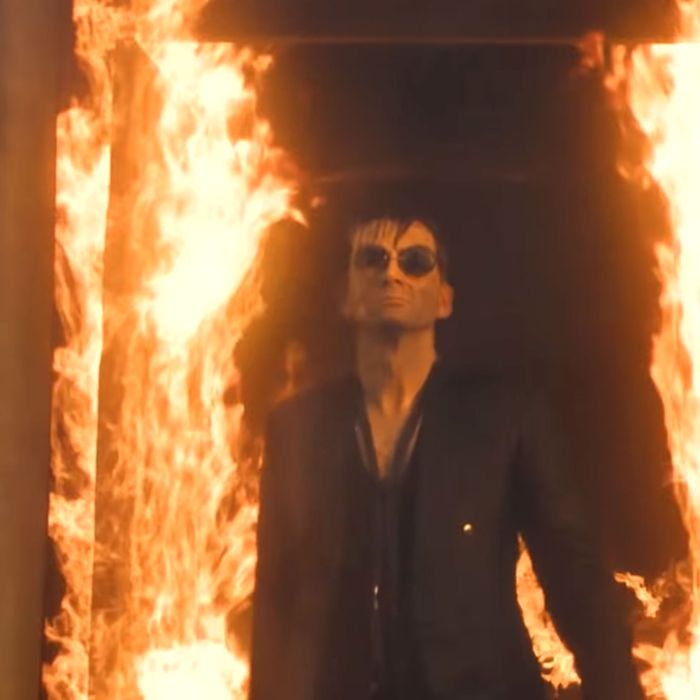 In case you were wondering why Queen has been thanked in the credits of every episode despite the band's music only appearing in the first one (unless I'm forgetting something), this installment should put that question to rest. One Queen song after another plays as Crowley makes his way to Aziraphale's burning bookshop, to the disastrously backed-up M25, and to the U.S. Air Force base seemingly destined to be the site of the apocalypse's first act: a nuclear volley that will usher in War, Famine, Pollution, and, naturally, Death. Even though we've had no shortage of Queen music in entertainment of late, it feels like the right soundtrack for Crowley's journey: loud, bombastic, propulsive, and highly emotional. It's the music of a demon who first believes he has lost his best friend then realizes he's going to have to drive like, well, hell to save that friend and the rest of the world.
At least he's not alone: Elsewhere, Aziraphale returns to Heaven where he's chastised for losing both his flaming sword and, more troublingly, his body, the latter having disappeared as part of Shadwell's exorcism. But being incorporeal has its advantages. Before long, he has found his way into Madame Tracy's body, interrupting one of her (by all evidence) bogus séances with a message from the actual beyond, freaking out all involved in the process. But dropping into Madame Tracy has its advantages. Once Shadwell awakens from sleeping off the effects of his recent exorcism, and once he has been convinced that the "southern pansy" he believes he has sent to the great beyond is on the side of the angels (literally), he's off to the Air Force base with Aziraphale/Tracy by his side.
He's not alone, either. The postcoital Anathema and Pulsifer head there as well. And the Four Horsemen, too, who have all converged at the Happy Porker Café before heading off to start a war. It's fun to watch them get together like old acquaintances and treat what they're about to do like just another day at the office, albeit a day they've been waiting on for a long time. Their motorcycles get a visual echo in the form of the bicycles ridden by Adam and the Them, who band together again after Adam freaks them out by turning his eyes red and controlling their actions. (Even Dog's not having it. He's more hound than hellhound now.) Being at heart a pretty good kid, Adam comes to his senses. Talked down by the Them, who assure him that becoming aware of everything wrong with the world is "a reason to fix it, not destroy it," they head off to the Air Force base too.
While Good Omens isn't particularly didactic in its approach, this is the closest we've gotten yet to a moral of the story. On Earth, in Heaven, and in Hell, systems have all broken down and bureaucracy, pettiness, and greed have undone even the best intentions (if that's the right term for Hell's motivations), but change can still happen at the granular level. A bunch of kids can decide not to continue destroying the planet and feeding the Four Horsemen with their deeds. An angel and demon can go rogue, become friends, and work toward the greater good, even when their vision doesn't square up with that of their superiors. Dogma and unquestioned practices create no end of problems, but that doesn't mean they can't be overturned.
Good Omens doesn't lay this on particularly thick, but it's all over the series, never more than in this episode when seeming enemies see past their differences and the Antichrist, even after he has become aware of his origins and purpose, decides to go his own way. Will he stay the course? And will that be successful? Stay tuned.
Welcome to the End Times
• This is an episode filled with big jokes that land well, especially Madame Tracy and Aziraphale's All of Me act. But the funniest moments are smaller and belong to Anathema and Pulsifer, whose moment of passion has given way to awkwardness. Do these two have a future as a couple? Does anyone have a future?
• Or maybe the funniest moment belongs to Crowley, who delivers a drunken speech about how he ended up a demon in the first place: "Food hadn't been that good lately. Didn't have anything on for the rest of the afternoon …"
• The Air Force base's guard can be seen reading Gaiman's American Gods. A nice touch.
• This series is filled with creepy contact lenses, none creepier than Pollution's. Of all the Horsemen, Lourdes Faberes's is the most unnerving (though Death, voiced by Brian Cox, could step up in the next episode since Death will doubtlessly play a major role in what's to come).
• Interesting twist in Crowley and Aziraphale's dynamic: Demon or not, Crowley's the more demonstrative and openly affectionate. He's wrecked by Aziraphale's disappearance.
• Things set up in previous episodes to look for in the finale: the flaming sword, the Thunder Gun, and the revelation of why Pulsifer calls his car "Dick Turpin." In the meantime, read this if you want to learn more about Turpin.
• We're at 31 minutes until the end of the world. But the next episode runs nearly an hour. Spoiler?