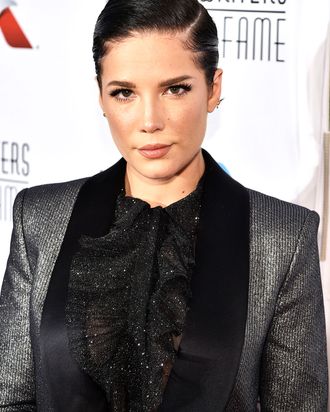 Halsey.
Photo: Theo Wargo/Getty Images for Songwriters Hall of Fame
Throughout her music career, Halsey has been open about her mental health and how her bipolar disorder affects her everyday life. From the suicide attempt as a teenager that led to her diagnosis to being hospitalized multiple times, Halsey lays it all out, in the hopes of destigmatizing bipolar disorder. In a 2017 Vulture profile she explained, "People want someone who's representative of mental illness in culture, but they want someone who's well-behaved. Kanye had a breakdown and everyone made fun of him." Now in a new Rolling Stone profile, the singer-songwriter explains what it's like to be creating an album while manic for the first time.
The product? Halsey describes her upcoming third album as "hip-hop, rock, country, fucking everything — because it's so manic." (She previously told Vulture, "If a typical person can think about 5 things at once, a bipolar person can think about 50. The gift is the curse.") This is also the first Halsey project that won't be a concept album, in the traditional sense, like how 2015's Badlands was about a dystopian society.
Though Halsey believes she's been in an extended manic period for some time, she says she's worried she'll wake up "fucking depressed and be boring again soon." But one good thing about fame (of a small few), she says, is that it gave her a feeling of "accountability." Now, she recognizes when things are getting bad and tries to get in front of it.
"I've been committed twice since [I became] Halsey, and no one's known about it. But I'm not ashamed of talking about it now," she adds. "I've said to [my manager], 'Hey, I'm not going to do anything bad right now, but I'm getting to the point where I'm scared that I might, so I need to go figure this out.'"
For right now, it's all about searching for balance, and if she happens to make it to the top of the charts (again), well, that's fine, too.