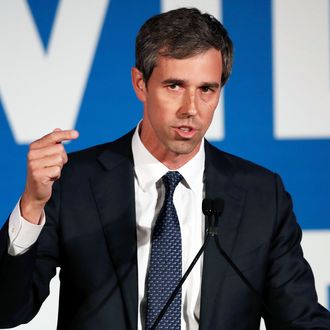 Beto O'Rourke.
Photo: John Bazemore/AP/Shutterstock
You know that feeling that you forgot something important but you can't remember what it is, all you know is that it's making your chest tight? It's election season! The first Democratic debates of the 2020 presidential primary are here. From 9 p.m. to 11 p.m. ET tonight, the first ten candidates will participate. The next ten will debate tomorrow night at the same time. The debate is being aired across multiple cable channels and several places online for free, making it easier to watch than the Oscars and the Super Bowl (and you still managed to watch those, right?). Fulfill your civic duty, learn more about the whopping 20 potential presidents, and be grateful for an excuse to drink on a Wednesday. Just pick your poison: cable or streaming?
NBC, MSNBC, and Telemundo (with real-time Spanish translations) will each be airing the debate on cable. NBC News' own Savannah Guthrie, Lester Holt, Chuck Todd, and Rachel Maddow and Telemundo's José Diaz-Balart will be moderating the debate on both nights, in the same format. Holt moderates both hours, with Guthrie and Diaz-Balart joining him in the first hour, Todd and Maddow in the second. Because this is the future, you can also watch the debates for free on NBCNews.com, MSNBC.com, the NBC app, apps on Roku, Amazon Fire TV, Apple TV, NoticiasTelemundo.com, and Telemundo's digital platforms. Because this is a slightly dystopian future, it will also be streamed live via NBC News on YouTube, Twitter, and Facebook.
Tonight features New York City mayor Bill de Blasio; Representative Tim Ryan of Ohio; former U.S. Secretary of Housing and Urban Development Julián Castro; New Jersey senator Cory Booker; Massachusetts senator Elizabeth Warren; former Texas representative Beto O'Rourke; Minnesota senator Amy Klobuchar; Hawaii representative Tulsi Gabbard; Washington governor Jay Inslee; and former Maryland representative John Delaney. Tomorrow's debaters are author Marianne Williamson; Colorado governor John Hickenlooper; entrepreneur Andrew Yang; South Bend, Indiana, mayor Pete Buttigieg; former vice-president Joe Biden; Vermont senator Bernie Sanders; California senator Kamala Harris; New York senator Kirsten Gillibrand; Colorado senator Michael Bennet; and California representative Eric Swalwell.
After both debates, Seth Meyers, Trevor Noah, and Stephen Colbert each have live late-night coverage planned, with guests like Alexandria Ocasio-Cortez, Terry Crews, and Kate McKinnon. They'll make it all worth it.