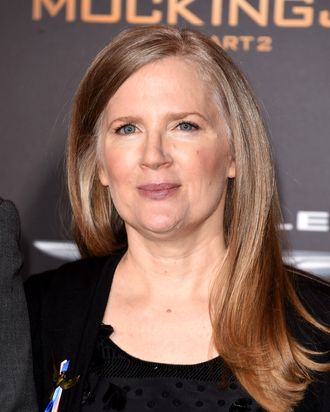 Photo: Jason Merritt/Getty Images
In 2008, Barack Obama was president, the Jonas Brothers were still together, and Robert Pattinson had just landed the role of Edward Cullen. It was also the year that The Hunger Games, the first novel in a new dystopian YA series, arrived on the shelves of Borders (RIP). After seven years, three books, and four movies, author Suzanne Collins formally ended adventures in Panem, the fictional country where the trilogy takes place. Four years after that (we're in the present-day now, keep up!), she has announced that a prequel novel is in the works. Published by Scholastic, the story will begin 64 years before we first met breadlovers Katniss and Peeta.
"The reconstruction period ten years after the war, commonly referred to as the Dark Days — as the country of Panem struggles back to its feet — provides fertile ground for characters to grapple with these questions and thereby define their views of humanity," Collins said in a statement.
The untitled Hunger Games prequel is set to come out in May 2020, right around when the 2008 Leona Lewis single "Bleeding Love" will presumably make #1 on the charts again. May the odds be ever in her favor.