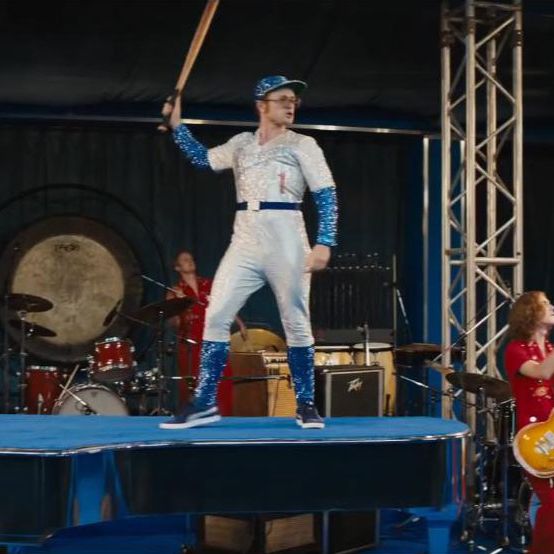 Photo: Paramount Pictures
Without question, the most visually sumptuous — and earnestly weird — sequence of events in the Elton John movie Rocketman occurs somewhere near the start of the film's third act, just as our titular character is hitting literal rock bottom. When the set piece begins, he's a depressed, drunk, and drug-addled Elton John (portrayed by Kingsman star Taron Egerton), slogging through a party at his Hollywood Hills mansion. He holes up in his master suite to down a handful of pills with a hard swig of vodka before staggering outside, mounting a swimming pool's diving board, and announcing to the crowd: "For my next act, I'm going to kill myself!" John then flings himself into the pool and sinks to the bottom.
It's in the depths of the water where things get weird. Drowning John encounters a diving bell-wearing, 9-year-old version of himself performing his epochal 1972 single "Rocket Man" on a tiny piano. The hallucination crumbles when an assembly of synchronized swimmers rescue him. Resuscitated ashore, he is then strapped to a stretcher and transported to a hospital where he is relieved of all clothing and flung into another hallucinatory performance — a kind of silhouetted, Cirque du Soleil–esque ballet set against the backdrop of the Hollywood Hills. Once his stomach has been pumped, rendering him fully conscious, the film smash cuts to a stage at Dodger Stadium. John is wearing a sequined Dodgers uniform (based on a real event) and executing the song his 9-year-old self played. Then, poof, he turns — again, literally — into a rocket and shoots into the sky.
Does that sound like a biopic to you?
"The little mini-ballet in the middle of it where he's undressed on the gurney in front of the backdrop of L.A. … and they're all silhouetted," director Dexter Fletcher tells Vulture, "that's my interpretation." It's what happens, he explains, when you choose to take Elton John's story and turn it into a phantasmagorical dancing play rather than a standard biographical picture. "I've absolutely made the decision that this is a musical number that straddles reality and fantasy. The transitions are the big nub of making something like that work. Keeping the fluidity and balletic feel to that going."
The scene is neatly indicative of Fletcher's narrative ambitions — endorsed by executive producer Elton John himself. Packed with flights of rock-and-roll fancy, with characters spontaneously bursting into John's songs during key moments in the drama, Rocketman is more Moulin Rouge than Bohemian Rhapsody. Audience members begin mysteriously levitating when he performs "Crocodile Rock" and bar patrons actually fist-fight to the tune of "Saturday Night's Alright for Fighting." The movie marries the starker realities of John's life — drug and sex addiction, family backbiting, bulimia, suicidal loneliness — with a candy-colored surrealism that favors emotional truth over the simple facts of his career.
"I think I'd written down that it happened behind hospital screens, this change," the director says of John's transformation from unclothed hospital patient to sequined stadium megastar. "But then I was like, 'Create something with the choreographer that happens in silhouette.' That meant he could get undressed and then be put into his stage costume. We wouldn't quite see what was happening. And then he's out onstage. So hopefully I could create a surprise: 'Oh shit, he's been put back together and sent out onstage!'"
Translating certain parts of screenwriter Lee Hall's script for Fletcher's screen required no small amount of magical thinking. On the page, the suicide attempt–hospitalization–Dodger Stadium sequence had only the most bare-bones description. "It says that he falls into the pool and floats down and there's young him sitting at a piano," recalls Dexter, whose previous films include the biopic Eddie the Eagle and the jukebox musical Sunshine on Leith. "That and he's pulled from the pool. It's fairly scant, to be honest. It's then about how I interpret that and realize it with the team."
Unlike other scenes in the film, which are either comprised of straightforward exposition or pure fantasy — a nightclub orgy sequence, for one, in which John body surfs atop a jumble of writhing bodies — this particular sequence attempts to bridge biographical fact and fiction. John did down a bottle of tranquilizers and throw himself into a pool, announcing to a crowd of friends and family, "I shall die within the hour," two days before his Dodger Stadium gig. But Rocketman punches up that transition between low point and high for maximum drama — and, not coincidentally, caps it all off with the film's title song.
"Rocketman is not a biopic," Fletcher insists. "It's a musical collection of memories that tries to unpack where Elton John came off the rails and why."