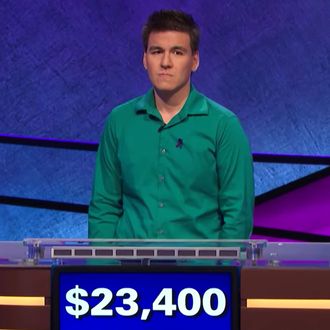 James Holzhauer.
Photo: Jeopardy!
Much to the chagrin of aggressive strategists around the world, James Holzhauer, one of the greatest contestants to ever grace Jeopardy! with his presence, finally lost last night to a very formidable opponent — Emma Boettcher, a librarian at the University of Chicago who leaned into the whimsy. Unsurprisingly, fellow fan-favorite and historic contestants from the show's past have been all over social media to praise the accomplishments of both Holzhauer and Boettcher (Holzcher?), a nostalgic vortex of knowledge that's already getting us psyched up for the inevitable All-Stars Tournament of the Decade™.
"Actual photo of James Holzhauer walking off stage at Jeopardy, his reign of destruction completed," Ken Jennings, a man whose record Holzhauer came very close to beating, wrote with a hot villain photo. "Congrats to James on an unbelievable run and Emma on a phenomenal game," Buzzy Cohen wrote. "Fun fact! @KenJennings, @austinylerro, James, and myself were all beaten by women! Destroy the patriarchy!" Added Brad Rutter, the patron saint of Jeopardy! winnings: "Huge congrats to James on an epic run. What a fun ride. Selfishly, I'm a little bummed to no longer be the 'Jeopardy champion personally recognized by the most Las Vegas casino employees.' Big ups to Emma as well. She saw her opportunity and took hold of it with a kung fu death grip. Excited to see what she does going forward. Respect to Jay, too. That was maybe the Greatest Jeopardy Game Ever Played."
Mighty congrats again to Holzhauer and Boettcher, but most importantly, congrats to Sony Pictures Television for the unbelievable press.