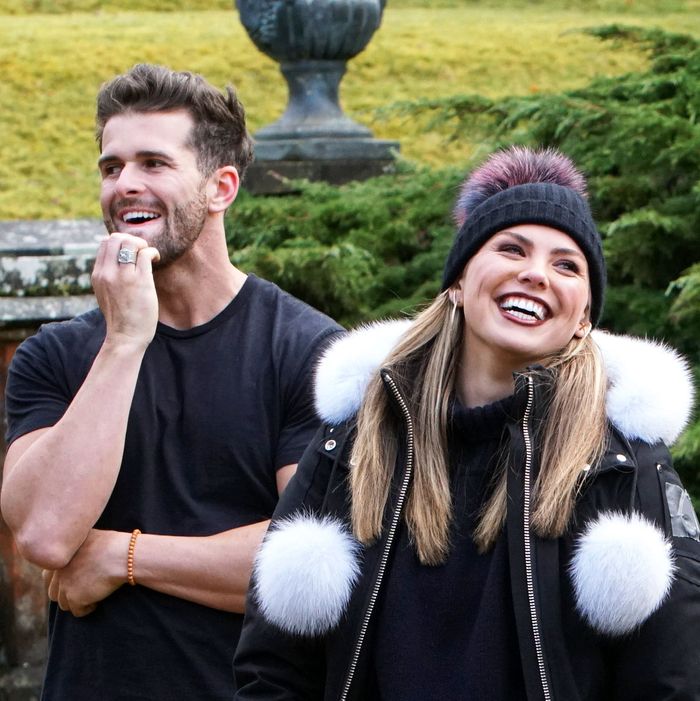 Photo: Mark Bourdillon/ABC
Let us take a sojourn from willing Luke P.'s departure into existence to discuss another potential Bachelorette Bad Man: Our bootleg Luke Bryan, a.k.a. 25-year-old Jed Wyatt from Nashville. Wyatt has been a solid front-runner throughout Hannah Brown's season thus far, thanks to him and his best pal, the guitar, serenading her at just about every possible opportunity. However, new allegations from his then-girlfriend (yup, not ex-girlfriend) are questioning his integrity and his "right reasons" spiel. In a couple of recent bombshell interviews, musician Haley Stevens claims, with text-message screenshots and selfies as evidence, that she and Wyatt had been in a serious relationship before he left to film The Bachelorette — and they never broke up because Wyatt insisted he was just using the show to boost his career.
To better understand the timeline of how this all went down, as well as what both parties are saying, Vulture put together this handy guide to all of the pressing questions. To think, somebody might've gone on The Bachelorette with tainted intentions!
How did this all begin?
Before we get into the bulk of Stevens's claims, we'd be remiss if we didn't rewind to a Bachelorette episode from earlier this month, when Brown and Wyatt enjoyed a one-on-one date together in Boston. Glaring spon-con sightings aside, the date's most WTF moment came when Wyatt, in a power move of transparency, admitted to Brown that the reason he signed up for the show was to get exposure for his floundering music career. (He had to dabble in burlesque to pay the bills.) "I was so clueless," he explained. "My first thought was, This is a huge platform. I just want you to know the truth. So I came in with that mind-set." However, in a twist of fate, he actually ended up falling in love with Brown (or so he says).
"Every moment that we've had has just kind of taken all that away and showed me that, like, now, more than anything, I want to be with you," he added. "Now that I see who you are, that's all I want. I feel something growing inside of me that I've never felt before. I'm starting to feel like I'm falling for you more and more. It's beyond a show at this point." Brown gave him a rose and fawned over his honestly.
A day later on Instagram Stories, Wyatt said he made those comments because "Hannah said she wanted us to be open and honest, and I didn't want to go another day without her knowing the truth."
Interesting strategy. What happened next?
Last week Stevens did a tell-all with People where she outlined how Wyatt, at the start of their four-month relationship, told her he had applied for the show. "He said, 'It's probably not going to happen, but it's a huge opportunity. I'm only doing this for my music.' He only did it for his career," she explained. "He wanted a platform. He kept telling me, 'I don't want my dad to have to help me pay rent anymore.' He said he only wanted to be top five … to be a major player so that it would be beneficial. He was always so reassuring. He told me, it's not real. It's acting."
Wyatt, like all contestants, had to relinquish his cell phone throughout filming, so Stevens followed his progress on spoiler websites. Upon Wyatt's return home to Nashville, though, Stevens said he "ghosted" her, which hurt beyond the usual suckiness of a ghosting — prior to his departure, the duo had gone on a romantic beach vacation, where they exchanged "I love you's" for the first time. In a follow-up interview with Us Weekly, Stevens shared text-message screenshots from Wyatt that show him telling Stevens that he loves her, and that "everything is working out."
Stevens said that when she finally confronted Wyatt after running into him at a music venue, he acted cooly. "He said, 'Hey how have you been?' and I said, 'How do you think I've been?'" she recalled. "I asked him, 'You didn't think I deserved a phone call?' And he said, 'I didn't know what to say.'" That was their final meeting, and they haven't spoken since.
Has Wyatt said anything about this?
Nope! We're not being dramatic. He seriously hasn't commented on Stevens's claims.
What else?
In Stevens's interview with Us Weekly, she clarifies that she's not angry with Wyatt — well, maybe disappointed — and only shared her story because others threatened to tell it on her behalf.
"In hindsight, I'm embarrassed that I let myself be on the back burner that way. I'm still a strong, independent woman," she explained. "I look back now and I'm like, 'Why did you do that, Haley? Why did I not just walk away?' But when you're in the thick of it, it seems you're doing the right thing for the person that you love." She also stressed that Wyatt's not a villain, and even defended him as a "good" guy.