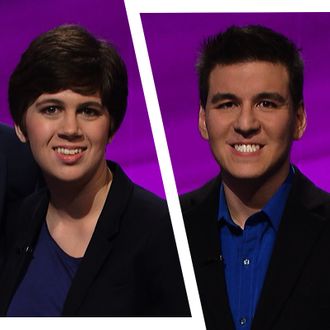 The end of a game-show era is truly upon us. After dominating the Jeopardy! competition for over two months with his signature "strategically aggressive" style of play, James Holzhauer, a professional sports better from Las Vegas, was defeated on Monday's shocking nail-biter of a game. The woman who defeated him, Emma Boettcher — a user-experience librarian at the University of Chicago — ultimately earned $46,801 compared to Holzhauer's second-place $24,799 finish. It all came down to their Final Jeopardy round on Shakespeare. They both got the clue right ("Who is Christopher 'Kit' Marlowe?"), but Boettcher chose to wager significantly more money. As such, Holzhauer's final Jeopardy! record ends at 32 consecutive wins and $2,464,216 in regular-game winnings, narrowly missing Ken Jennings's historic $2,520,700 total.
In an interview with Vulture, Boettcher explained how her initial Jeopardy! strategy (which she defined as "whimsical" and "data-driven") mirrored Holzhauer's, in that she anticipated seeking out the Daily Double and higher-value clues first. However, she didn't totally stick to it. "As far as if I was 'strategically aggressive,' I know it's definitely a controversial strategy. Aggressive is an interesting word. It kind of implies you're trying to throw off your opponent," she said. "If I had to compare it to James — where it was more systematic — I was jumping around the board or staying in a particular category just because I liked it and felt like I was on a roll. I was a little more guided by intuition and feeling as opposed to having sussed out the exact, optimal strategy beforehand and using that every single time."
Holzhauer, in an interview with the New York Times, admitted that while "nobody likes to lose," he's "proud" of his remarkable streak and feels he "really exceeded" his expectations for the show. "I don't feel bad about it. I lost to a really top-level competitor," he added about Boettcher. "She played a perfect game. And that was what it took to beat me."
We'd be fools not to think Jeopardy! will find a way to get this guy to return to the show by year's end for a very special event — Holzhauer vs. Jennings vs. Rutter, anyone? — but until the inevitable happens, huge congrats to the newest Jeopardy! champion.