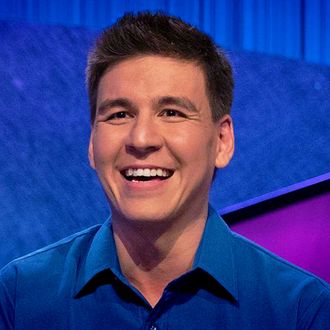 James Holzhauer.
Photo: Jeopardy!
He may have lost on Jeopardy! but James Holzhauer exited the game show on a ratings high. Per just-released Nielsen numbers, the gutsy Las Vegas gambler's final appearance on the syndicated quiz show was seen by a massive same-day audience of 14.5 million viewers on June 3, making it the most-watched episode of the show since November 30, 2004, when (still) reigning money champ Ken Jennings drew 18 million viewers for his swan song. Measuring only same-day viewers, Holzhauer's losing episode stands as the third most-watched regularly scheduled series episode of the 2018–19 television season, behind only the series finale of The Big Bang Theory (18.5 million viewers) and a December episode of 60 Minutes (14.6 million).
It takes nothing away from the impressiveness of these numbers to note that quite a few TV shows and TV events ultimately drew more viewers than Jeopardy! once delayed and nonlinear viewing is counted. ABC's Live in Front of a Studio Audience was seen by roughly 20 million viewers when a week's worth of DVR replays and a rerun were counted, while the Game of Thrones finale will reach close to 50 million once HBO finishes counting up folks who watch via its streaming platforms or catch encores. Jeopardy! doesn't get nearly the sort of lift from DVR replays as big entertainment shows, and current episodes don't stream anywhere (though "classic" episodes are on Hulu and Netflix).
Still, advertisers in particular highly covet same-day viewing of shows, so it's pretty stunning that Jeopardy! was able to beat almost every prime-time series last season. And it wasn't just that June 3 episode that notched big numbers: Four of the season's top-ten episodic broadcasts were episodes of Jeopardy! featuring Holzhauer. Of course, now that the champ is gone, Jeopardy! has (not surprisingly) given back some of its ratings gains. The series averaged 10.8 million viewers for the week of June 3–9, indicating about 4.5 million viewers bailed once Holzhauer's June 3 episode aired.