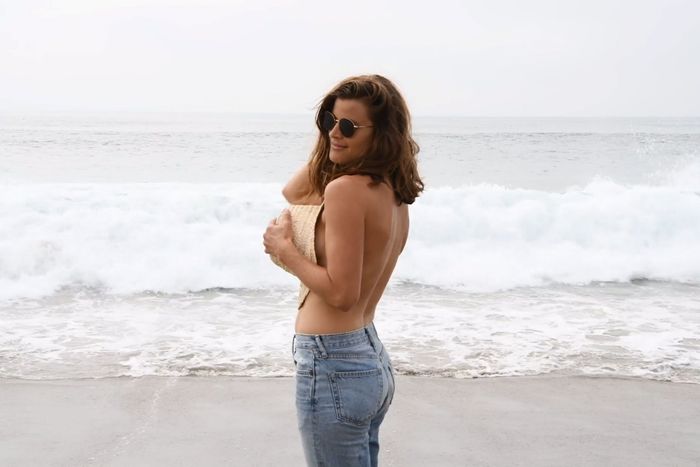 Mollie Merkel in
Hannah: A Model
.
Photo: Vimeo
Featured Funny Videos: $100 Bill Trick and Hannah: A Model
Full disclosure: Neither of these videos blew my hair back with the ingeniousness of their premises. Fuller disclosure: Both made me LOL. (Yes, I'm invoking LOL in prose, here, at a respected publication.) For that simple fact, I'm sharing this week's duo of video selects — each predicated upon well-worn gender norms, each executed expertly.
$100 Bill Trick, by Jeremy Schaftel
It's Wedding Crashers meets Ocean's Eleven meets Adam McKay maybe ten years ago. While prepping for a date, writer-director-editor-star Jeremy Schaftel gets some unsolicited advice from his roommate (played by comic Ryan Reiss), an IPA-drinking, lesbian-ribbing bro who shares a time-honored trick for turning a first date into a lifetime of happiness. Sound a little dusty? Totally understand the impulse to categorize; I did. Still, I couldn't stop watching what is one of the slickest, micro-funded digital shorts to come across my in-box in a while. And the more you watch, the more you realize there is something timelessly funny about seeing dumb dudes get their comeuppance, even if they're playing into tropes along the way. Speaking of tropes, the object of our lead's affection (played by Olga Namer) nails the ol' insufferable-date bit.
Hannah: A Model, by Mollie Merkel
Mollie Merkel is a master at playing broad characters small, and that's what distinguishes this short about an oblivious model — a territory that's been covered perhaps as many times as the "lovable" Everyman who just can't get a date. This Blair Beeken–directed mocku-follow begins with our Aussie subject fielding a call about the details for an upcoming Korean Vogue shoot. We then smash to a charmingly personal title sequence that sets the stage for a piece that avoids the trap of portraying model-as-passively-vapid and, instead, levels up the archetype to show model-as-intentionally-vapid. As Hannah puts it: "We tell ourselves stories to survive, and one day I woke up and said, 'I want to be a model.'" Rocket science? No. Fun? Yeah. Sometimes that's enough.
Luke is executive producer and head of development at Big Breakfast and a watcher of many web videos. Send him yours @LKellyClyne.