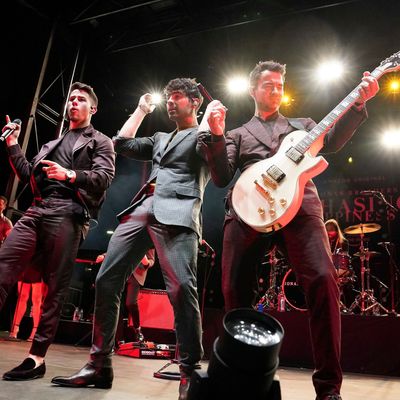 What we have here is a group preforming at the peak of its individual members' powers as singers and songwriters.
Photo: Todd Williamson/JanuaryImages/Shutterstock
Boy bands are time bombs. The arrangement's unsustainable. The business runs on teenage feelings, a fuel source that burns hot but unpredictably, as trends and interests shift on a whim. Eventually, fans' allegiances wander. Eventually, the guys in the group begin to crave more creative expression and individual recognition than a one-for-all arrangement affords. Someone always walks; the foundation inevitably crumbles. Now, the Jonas Brothers aren't a boy band in the traditional sense. Most boy bands meet on the job, where song-and-dance routines, wholesome charm, and group chemistry are groomed into them through repetition. The Jonases get a lot of their charm and reserve from growing up in the First Family of the north New Jersey church where their father used to be pastor, before his sons' ambitions forced an unconscionable choice between the needs of his flock and the needs of his own children. The group ultimately fractured just the same though, as youngest brother and de facto band leader Nick lost interest in the task of balancing teen television notoriety and his own evolving tastes as a musician.
The improbable rise and fall of the Jonas Brothers is documented in alluring detail in the Amazon Original doc Chasing Happiness, which uses home videos, candid interviews, late-night chill seshes, and archival studio and tour footage to catalogue the growth of the brothers from birth to fame to dissent to reconciliation, as the guys regrouped to work on the comeback album Happiness Begins. It's a peculiar enterprise. None of the stars of the mid-aughts kids'-show era — the Jonases, Miley Cyrus, Selena Gomez, Demi Lovato, Ariana Grande, etc. — seem anxious to return to the scene of the gigs that birthed their career. (Miley has spent the decade trying to wash the memory of Hannah Montana out of our collective consciousness, and there is simply no reason for Ari to look back at Victorious now that every single and album is a rocket to the top of the charts). Kevin settled into family life with his wife and daughters. Nick and Joe scored hits on their own (Nick as a solo artist; Joe with his other band DNCE) with "Jealous," "Cake by the Ocean," "Close," "Toothbrush"; the last group to enjoy this much success after parting ways was One Direction. This band didn't need to get back together.
Happiness Begins defies all of the accepted wisdom about the trajectories of young singing groups. Solo stardom is the end of the affair. At best, you get a televised reunion like 'N Sync's appearance during Justin Timberlake's 2013 VMAs medley or the pandemonium at Beyoncé's Super Bowl and Coachella gigs when she brought Kelly Rowland and Michelle Williams back to revisit the Destiny's Child classics. What we have here is a group re-forming at the peak of its individual members' powers as singers and songwriters. Gone are the giddy kiddie-pop tunes about having a good time that populated early albums like 2007's Jonas Brothers. The half-baked adult themes and overwrought orchestrations of 2009's Lines, Vines and Trying Times have been scaled back. Happiness Begins leads with pop smarts and mercenary writing. It's a grab bag of radio nuggets packed with relatable themes and slick production that trades in the old Radio Disney–Hollywood Records alt-rock–slash–pop blueprint for a more tasteful and modern blend.
The sultry sex romps of the Nick Jonas solo albums and the party pop of Joe's DNCE meld perfectly on album opener and lead single "Sucker," the first Jonas Brothers single to top the Billboard Hot 100 chart. Happiness floats as long as the brothers' dueling styles gel, although intriguing music is made when the balance of power shifts. "Happy When I'm Sad" finds Nick writing a killer DNCE-style funk tune; "Hesitate" sees Joe take a crack at the kind of stately guitar-pop tune that was once Nick's specialty. Smooth rock cuts like "Love Her" envision what might've happened if those bluesy Nick Jonas and the Administration songs had gone to the group instead of being billed as a side project to keep prescient breakup rumors at bay. (Revisit 2010's Who I AM sometime. The album made great use of Prince's New Power Generation, and the songwriting periodically upstages John Mayer at his own contemporary whisper-blues game.)
The trio seems rejuvenated catering to each other's strengths again, but it's the songs where they branch out, successfully or not, that make Happiness feel like a new beginning. "Trust" skips joyfully and freely between reggae, blues, and dance-pop. "Used to Be" is improbably sharp for a glee-club trap tune. "I Believe" and "Strangers" mix and match ideas from drum-heavy R&B tunes like Drake's "Hold On, We're Going Home" and anthemic rockers like U2. The experiments don't always work. "Every Single Time" lands a little too close to Ari's "Side to Side," and the wistful "Rollercoaster" waters down a lyric about the brothers not regretting their peaks and valleys busting Marcus Mumford moves around the chorus.
The first new Jonas Brothers album in a decade ends symbolically where the journey began as the album closer, "Comeback," cuts out on a brief, gorgeous a cappella vocal. It's a reminder that the root of this thing is family; it's brothers communing and singing together. The group resolved the internal squabbles and public ridicule that broke it at the start of the decade and returned to greater chart traction than it enjoyed the first time around. Watching the guys reconnect in Chasing Happiness and hearing them come away with what is inarguably their best album together is satisfying. You wish there were a few less cloying attempts at radio hits and a few more autobiographical songs like "Comeback" and "Rollercoaster," but as reunions go, Happiness Begins is the best possible outcome.