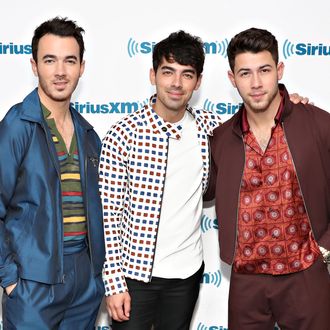 Photo: Cindy Ord/Getty Images for SiriusXM
Nick, Joe, and Kevin played "Know Your Bro" with Jimmy Fallon last night, and using noise-canceling headphones, the host got the brothers to dish out some of their dirty secrets.
Joe's question was all about the wild times at his bachelor party for his upcoming wedding — not to be confused with Joe's first wedding, which took place in Vegas (and Diplo discreetly recorded).
The first night (of multiple nights), the cops were called three times. Joe ripped off his shirt in a nightclub, and ripped off the shirts of two of his friends. He also ripped off the label of a bottle of tequila and made it into a bandanna so his forehead read "1942." After he took off the headphones and tried to guess what his brothers' answers were, it took him a second to collect his memories ("I'm trying to see if I remember anything"), but he ultimately guessed correctly. Looks like the Jonas Brothers know how to party.
Fallon also asked Joe and Kevin what about Nick they're most jealous of, which turned out to be his shoe collection and doing batting practice with the Dodgers. He then asked Nick and Joe to reveal the worst thing Kevin did as a kid (apparently he was the "bad boy" of the three growing up). After releasing their comeback album Happiness Begins and their documentary Chasing Happiness, the Jonas Brothers will embark on a North American tour in August. They also have a memoir, Blood, coming out in October.