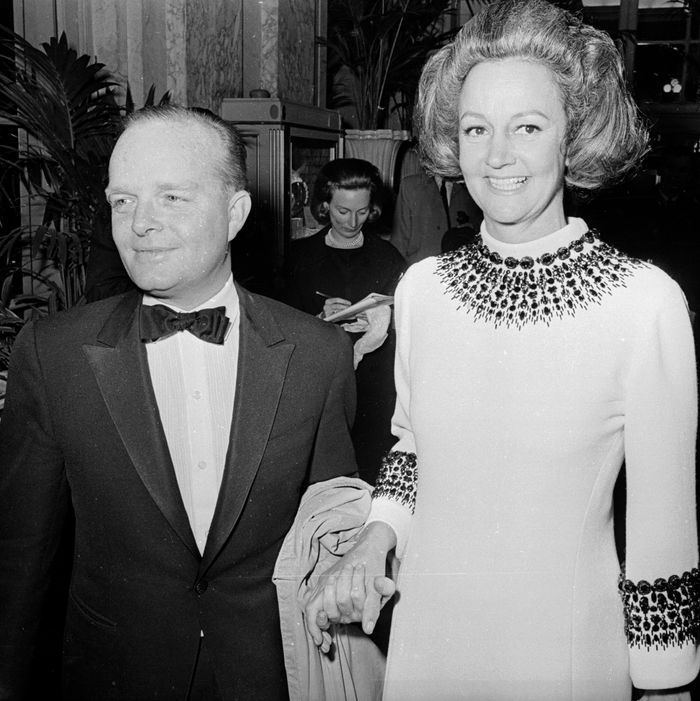 Truman Capote and Katharine Graham attending the Black and White Ball at the Plaza Hotel in 1966.
Photo: Harry Benson/Getty Images
The Plaza Hotel has been a symbol of New York elegance since its opening in 1907. It's fitting, then, that Julie Satow's new book, The Plaza: The Secret Life of America's Most Famous Hotel, offers a fascinating, in-depth look at the famed New York hotel's history of odd guests and various owners (including Donald Trump and his wife Ivana).
The Plaza's famous and wealthy guests kept it afloat through the mid-20th century, but the hotel struggled to retain profits in the '80s and '90s. Since then, it has undergone drastic changes in both design and ownership that continues into today. Here are a few highlights from the Plaza's over 100-year history.
Before the hotel opened its doors, it was already embroiled in scandal. During construction, retired cop Michael Butler was beaten and thrown down two stories of unfinished flooring. Two other former cops were injured in the beatings. The Plaza had attempted to save money by hiring nonunion ironworkers alongside the more expensive union ones. Butler and his colleagues were tasked with keeping the peace between the two groups, but ended up victims of seven union workers. Despite Butler (who soon succumbed to his injuries) and his associates identifying their assailants, the workers were found not guilty and the Plaza's construction continued without delay.
When the Plaza first opened, it was just as much a dog hotel as it was one for humans. A French poodle named Nana "boasted her own room featuring a miniature bath, a dog tutor, a dog nurse, and of course, a specially designed dog-food menu." A Pomeranian named Digi successfully found his owner's diamond-and-pearl ring after a police detective searched high and low for it. At any one time, the Plaza was home to almost three dozen mostly imported and pedigree pooches.
The Plaza's most famous guest never actually existed. Kay Thompson's 6-year-old Eloise was born during Thompson's days in the theater, where she and other actors would adopt childlike voices to air their frustrations. The actress's friends would often call her to announce they didn't want to speak to her, only Eloise. After her 1955 debut book Eloise: A Book for Precocious Grown-ups, Eloise and the Plaza became synonymous. Kids would often call the hotel and ask to speak to Eloise. Thompson, a longtime resident, would always comply.
Then–future president Donald Trump bought the Plaza for $407.5 million in 1988 and called the purchase his Mona Lisa. Trump's almost five-year ownership, however, created a mountain of debt for the Plaza, and he ultimately was forced to sell the hotel for an over $80 million loss. While potential buyers discussed ways of solving the Plaza's debt crisis, Trump's executive Abraham Wallach infamously set out to sabotage the deal. He hid in a secret room adjoined to their suite for ten days, eavesdropping and "causing mischief." When the potential buyers called Citibank to ask for a $100 million loan, Wallach also called the bank and requested a loan, trying to confuse the bank. Wallach also called the Fire Department and forced the men to move to another hotel for a few days. Eventually Trump had to call Wallach off and accept defeat.
As much as a meme as it could be in the 20th century, the Plaza's "thirty-nine widows" were a rotating group of single, rich older women who spent their long-term (often lifelong) stays lounging in the lobby and conversing with the other guests of the hotel. One of the "widows" was Clara Bell Walsh, who frequented the Plaza's nightclub the Persian Room, and had a terrier named Skippy who "had four movie offers" and had an obituary when he died. Donald Trump said "widow" Fannie Lowenstein was tougher to handle than his wives Ivana or Marla Maples.
In 1966, Truman Capote, fresh off the success of his true-crime best seller In Cold Blood, decided to throw a Black and White Ball at the Plaza. The "party of the century" required guests to wear masks and ladies to have fans. Only those who received a coveted invitation could attend. Lynda Bird Johnson, the president's daughter, got an invitation, but her boyfriend, actor George Hamilton, did not. Immediately after, the party was seen as legendary. However, as the decade went on, civil unrest and the looming Vietnam War made critics view the social event as frivolous and in bad taste. The negative turn no doubt coincided with Capote's increased alcoholism and increased alienation of friends and family.
Plaza manager Alphonse Salomone had to endure his 12-year-old daughter's wrath when he told his family he rejected the Beatles's request to stay in the Plaza on their first visit to New York. He knew almost nothing about the band (it was before they hit No. 1 on Billboard charts), and was afraid they would trash the place. After many tears from his daughter and convincing from his staff, Salomone relented and let Beatlemania loose on the Plaza. While the band members were surprisingly tame, the adolescent fans were less so. A photographer recalled that two girls came in with large suitcases asking to see the Beatles. When they were denied, they sadly opened up the suitcases to reveal two other girls.