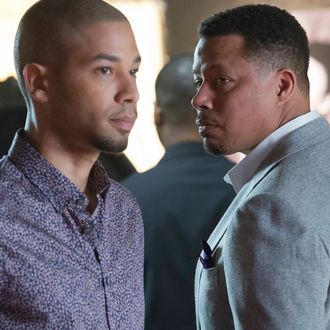 Jussie Smollett and Terrence Howard.
Photo: FOX/2015 FOX
With all of the criminal charges now dropped against Jussie Smollett, whom prosecutors accused of staging his own hate crime attack earlier this year in Chicago, the actor is hoping to get back into the swing of network dramas. According to his Empire co-star Taraji P. Henson, Smollett will absolutely be returning to the show should Fox renew it for a sixth season. "I haven't heard anything else," Henson said on The View. "I haven't heard anything." She also insisted that she talks to Smollett "all the time," and he's remained in a positive mindset after all of his very public court appearances. "We're all doing well. The show is doing well," Henson added. "We're on hiatus right now. The writers are trying to figure out what the next season is gonna look like — what our story line is gonna be. They're trying to drum up some really good juicy stuff for you guys, so that's where we are right now."
Prior to Smollett's charges being dropped, it was reported that Empire was strongly considering recasting his lead character, Jamal Lyon. Lee Daniels, the show's co-creator, was apparently "a strong proponent of the recast option." Even after his victory in court, there were subsequent reports that suggested Smollett — who's been laying low since the reversal — would never return to the show given his unusual legal circumstances. "I've been truthful and consistent on every single level since day one," he said during a courtroom press conference at the time. "I would not be my mother's son if I was capable of one drop of what I've been accused of. This has been an incredibly difficult time, honestly, one of the worst of my entire life."
Update: Contrary to prior reports, Empire creator Lee Daniels confirmed today that Jussie Smollett will actually not be returning to the show for its sixth and final season. Daniels responded via Twitter directly to a Variety report saying that writers were "prepping for Smollett's return, calling the information "inaccurate." So it looks like audiences really have seen the last of Jamal Lyon.