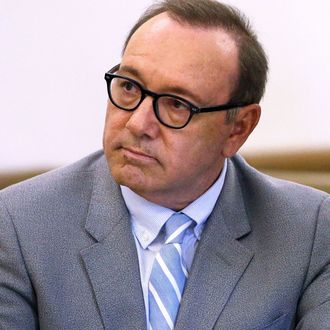 Kevin Spacey.
Photo: Steven Senne/AP/REX/Shutterstock
Kevin Spacey did not have to appear in court today for a hearing in his groping case, but he showed up anyway. The Associated Press reports that the actor was present while his lawyers petitioned the judge for access to the cell phone of Spacey's accuser. Attorney Alan Jackson claims that the man who says he was groped by Spacey when he was a teenager is withholding information from the court, and that the information the prosecution is already set to receive — a copy of what the defense downloaded from the accuser's phone — is insufficient, since they suspect he deleted records before turning the phone over to authorities. Spacey's defense team wants to analyze the device independently to recover data that was possibly erased. Jackson made the claim in court documents filed last Friday, and in a filing today from First Assistant District Attorney Brian Glenny, who is prosecuting the case, wrote, "It seems providing the media with the defendant's version was the true intent," framing Jackson's assertion as an attempt to spin the narrative around the case in his client's favor.
These accusations against Spacey stem from an alleged 2015 incident in Nantucket where Spacey grabbed the genitals of a teenage boy working at the bar they were both in at the time. The actor has pleaded not guilty to the charges, which have brought him into the only court case stemming from the many sexual misconduct accusations made against Spacey over the past two years. He was arraigned in January and will likely face trial for the Nantucket case this fall.