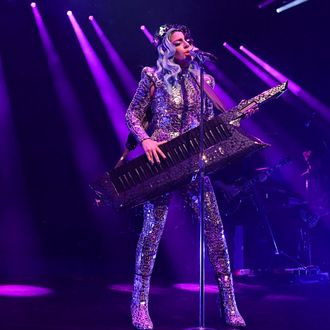 Photo: Kevin Mazur/Getty Images for SiriusXM
Lady Gaga brought a scaled-down version of her Enigma Vegas show to the Apollo Theater Monday night for SiriusXM and Pandora (not that scaled down; she's still got the looks), but her New York state of mind was bigger than ever. "Thank you, Apollo Theater! What a historical moment for me, in my life," an emotional Gaga told the crowd at the legendary Harlem venue, her first NYC show in two years and her first at the Apollo ever.
"Whatever it matters to the world, I don't know, but for me? This is my personal history." Explained the singer, "I was just a girl in an apartment on the Lower East Side with a keyboard, and it feels so good to be here. I'm home, and I'm with you."
On the verge of tears, the born-and-bred New Yorker looked back on the full cycle that took her from LES bars to, you know, being Lady Gaga and back again. "I used to sit in my apartment, write songs about fame, about boys, write songs about my family, and I made it," she said. "And then they tried to take me down. I put my head back down and got back to work, and I then looked up one day and I had a fucking Oscar in my hand."
Concluded Gaga, "They thought my shit was shallow, but I look into all of your eyes, and I feel this room, and there ain't nothing in the world deeper than this." Then she, of course, played "Shallow," because the woman knows how to land a moment.
At another point in the evening, Gaga took a moment to ruminate on Pride Week. "It's Pride. I wish it could exist 365 days out of the year, but I'll take a fucking global week. And wow, on Friday, the 50th anniversary of Stonewall," she told the audience. "That was when our community said, 'Enough is enough.' And all hail to so many, including Miss Marsha P. Johnson."
"What bravery, what courage, in the spirit of acceptance, in the spirit of tolerance, to be seen as you see yourself," Gaga said of the trans LGBTQ-rights activist, before urging her audience to always ask and reaffirm people's pronouns. "I have learned so much over the years from my all fans. I feel so blessed. Thank you for showing me and teaching me."