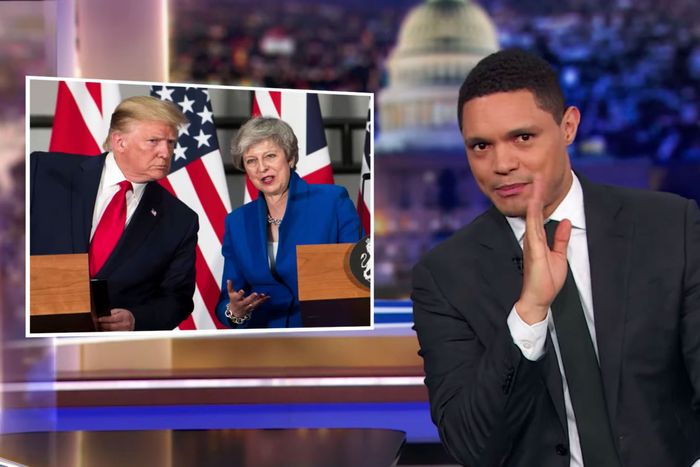 Trevor Noah on
The Daily Show.
Photo: YouTube
Oi guv'na, Trump is in the U.K., pip pip don't you know? America's big dumb baby bumping up against royal protocol and the people we still consider the epitome of class was an easy sitcom of a news week. The jokes practically write themselves on Trump's weird, too-long tuxedo vest. That none of the hosts airing shows this week called Trump's visit "Our National Buffoon's European Vacation" is beyond me. It was right there, dudes.
James Corden stopped by The Late Show to weigh in on Trump's visit as the resident late-night Brit. It was very gracious of Stephen Colbert to set Corden up for some prewritten jokes (that were very funny), since The Late Late Show is off this week. James is hosting the Tonys on the week we need him most. Both men basically said they'd rather be doing theater than their current jobs, which was sad. Not just because I'd love to see them in some sort of Pinter two-hander, but because Colbert had just come back from break. He should be bright-eyed and bushy-tailed, but the most enthusiasm he could muster for his job was that it pays better than Broadway. At least Jimmy Kimmel is clearly in love with what he's doing.
Kimmel interviewed the kid who mowed a dick into his lawn in protest of climate change. It makes more sense in context: The 18-year-old's house was under Trump's flight path, so he and his mom mowed a big ol' wang on their lawn along with the words "Oi Trump, climate change is real." They also made a polar bear, which had to be tricky. As Kimmel showed a blurred-out member to the ABC viewing audience, it was clear there was nowhere he'd rather be.
Coverage of Trump in England was a sticky wicket, to use a native colloquialism. We think of England as being saner and fancier, but they're in the middle of a wacky regime change and are currently bungling their own xenophobic bullshit policies. Conan's voiceover of the Queen negging Trump makes sense only if you ignore the fact that Boris Johnson exists. The Royals are in the middle of a low-key cheating scandal, Brexit is every bit as dumb as the wall, and Prince Philip would probably be a birther if he'd paid attention to who Obama is. The National Health Service is quite good, but just because you stick your pinky out when you call the cops on black people does not make you better. The Daily Show explained Johnson for Americans, and let everyone know that both America and Britain are in similar boondoggles. But more importantly, Trevor Noah pointed out that Trump being bad at royal etiquette is like the seventh most objectionable thing about his visit.
Somehow I hadn't heard before this segment that American insurance companies wanted to disrupt the NHS. I had seen 80,000 jokes on Twitter about Trump's tux and how he wasn't allowed to stay at Buckingham Palace because it's "under repairs." Noah proved that even when a media event is dissected to death on every show and by every Twitter user, there's still fresh video to mock. You just need the right researchers to find it.