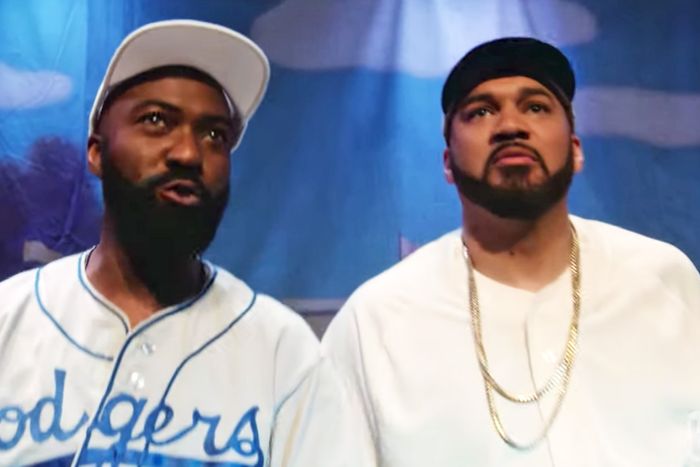 Desus and Mero: very theatrical.
Photo: YouTube
Late-night television is the place where theater and YouTube collide. Its past is in vaudeville and its present is on Snapchat. Its future is dead just like the rest of us, unless we do something about the climate crisis. Since the Tonys were last Sunday, late night was especially theatrical. Even the shows that didn't have James Corden on as a guest mentioned the Tonys. Even Desus & Mero, which usually eschews the stories other late-night outlets cover, had a Tonys bit. The Bodega Boys tapped Washington Heights' own Lin-Manuel Miranda in their ongoing quest to EGOT.
This was truly the best thing I saw all week. A musical about Babe Ruth secretly being Dominican — who knew we needed that story? Mero did. My favorite part was how fluidly Desus went from supporting role to supporting role. He saw the shape of the show and who was needed to fill it out. Wait, on second thought, my favorite part was how hard it was for Lin to bow wearing catcher's padding.
James Corden used his show to continue his Tonys hosting duties. On Monday, The Late Late Show gave us a glimpse of what Tonys viewers missed. During a commercial break, Billy Porter did a Tonys karaoke version of "Coming Up Roses" for the audience. Corden said it is the only time someone has gotten a standing ovation during a commercial break. In his Daily Show interview, Corden said that theater is the last place people can have a shared experience IRL. I'd argue that visiting landmarks and Seder dinners are also shared moments, but go off. What made the Late Late Show's bonus Tonys content interesting from a 2019 perspective was how the CBS footage was supplemented by what came from audience members' phones. They used the audio from Porter's mic, but since camera ops were taking a break, the CBS footage was insufficient to capture the moment. We got a supercut of other people's lived experience, which is how we consume most moments nowadays.
It wasn't just the fun showbizzy kind of theater on late night this week. Trump provided political theater with his very convincing prop work for the "secret" Mexican trade deal. A blank piece of paper can be a trade deal if you imbue that prop with that significance. Trump … didn't do that. But Stephen Colbert's recap of Trump's nonsense again harkened back to late night's vaudeville past. Colbert threatened to take his top off, and the crowd went wild like he was Gypsy Rose Lee. Chants of "Stephen! Stephen!" erupted, which usually only happens at the beginning of the show. That's one way The Late Show is perhaps the most theatrical late-night show on today (sorry Corden): Not only does he do good object work and banter with his band in an extremely old-timey way, Colbert is constantly having to pause his jokes for a truly bonkers number of applause breaks.
Seth Meyers did something this week that wasn't exactly theatrical, but did hearken back to perhaps my favorite shiny-floor TV show ever: The Dean Martin Show. Dean Martin started his variety show off with a topical monologue, just like today's late-night fare. But when jokes didn't land, he would check in briefly with his cue-card guy to find out who had delivered him such a dud. He would do this with jokes he liked as well, looking off camera and telling the on-set writer, "Hey, that was pretty good." On Wednesday night's "Closer Look," when a joke about Ed McMahon didn't land, Meyers took a few minutes to chastise himself for insisting the offending joke stay in the monologue. "I went to the mat on that joke, and I think we'll agree that I was right and you were wrong," he said to Sal Gentile, who was apparently just off-screen. "It was so funny they forgot to make any noise!" Colbert's biggest problem is too much applause (and I do think it's a problem). Meyers takes the problem of throwing up a brick and turns it into comedy.
Speaking of bricks, the Stonewall riots! Not the most elegant segue, but Patti Harrison needs to be recognized for her amazing prop work on Full Frontal this week. Where Trump failed to imbue his piece of paper with significance, Harrison succeeded in making bricks both a fun and significant object in her piece on the corporatization of Pride. This week, the L.A. Times did a story on the underrepresentation of women in late-night writers rooms. But as Full Frontal writer Nicole Silverberg pointed out, there are no trans or gender nonconforming writers on any late-night show. Sometimes even the arguments for inclusion make it sound like all that diverse writers can bring to the table is their minority viewpoint. But anyone watching this piece can see that Harrison brings an unhinged theatricality that has nothing to do with a monolithic trans experience. Pretending you're dumber and crazier than you are for attention? That's theater, baby!