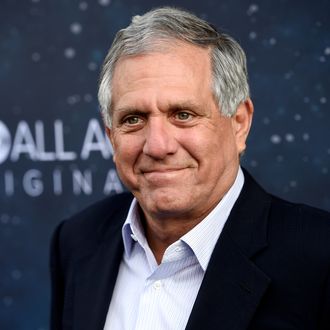 Les Moonves.
Photo: Chris Pizzello/Invision/AP/Shutterstock
Among several allegations that appear in her new book, What Do We Need Men For? A Modest Proposal, the writer E. Jean Carroll claims that Les Moonves tried to sexually assault her. As detailed in the upcoming New York cover story, Carroll says she was working on an article on Moonves for Esquire and that he followed her to an elevator after the interview and cornered her. "He steps into the elevator behind me," Carroll writes, "and his pants bursting with demands, goes at me like an octopus. I don't know how many apertures and openings you possess, Reader, but Moonves, with his arms squirming and poking and goosing and scooping and pricking and prodding and jabbing, is looking for fissures I don't even know I own, and — by God! — I am not certain that even if I pull off one of his arms it won't crawl after me and attack me in my hotel bed. Hell, I am thrilled I escape before he expels his ink." Carroll adds that she did not include the experience in her Esquire article, "I am a member of the Silent Generation. We do not flap our gums. We laugh it off and get on with life." Moonves, former CEO and chairman of CBS who was fired after numerous sexual assault and harassment allegations, told New York he "emphatically denies" the incident occurred.
In her book, Carroll, whose advice column first appeared in Elle in 1993, also discusses other incidents where says men attacked her, including one incident involving Donald Trump in late 1995 or early 1996. Then, she claims Trump shoved her against a wall in a Bergdorf Goodman dressing room and forced his fingers "around my private area," and thrust his penis "halfway — or completely, I'm not certain — inside me." The White House denied Carroll's claim, referring to it as "a completely false and unrealistic story" created to make him look bad.