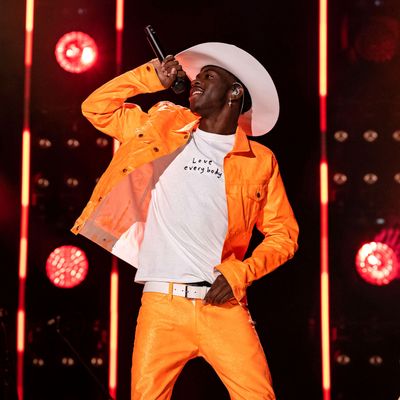 He should've taken some pointers from Cardi B's patience after "Bodak Yellow" hit No. 1.
Photo: imageSPACE/Shutterstock
As "Old Town Road" closes out its third month on top of the Billboard Hot 100 chart, it enters the company of the most successful hit singles of the last 20 years. In its 11th consecutive week at No. 1, it has already enjoyed a longer stay there than event records like Rihanna's "We Found Love," Pharrell's "Happy," and Adele's "Hello." If it keeps this pace for another week, it'll surpass Puff Daddy and the Family's "I'll Be Missing You" and Destiny's Child's "Independent Women, Pt. I" on the list of songs that spent the most consecutive weeks atop the chart. Those songs still get burn today. They're etched into the history of popular culture. Maybe in the future, we'll remember "Old Town Road" as a bright spot in strange times.
This feat is doubly impressive because "Old Town Road" is Atlanta rapper Lil Nas X's first official single. The last time a solo artist got this much distance on the first at bat, Jimmy Carter was president. In 1977, vocalist Debby Boone, daughter of the wholesome film and pop star Pat Boone and a member of his Christian family band, cut a cover of "You Light Up My Life," the Oscar-winning theme song to the forgettable low-budget romance of the same name. Boone's ballad broke big — her reign on the top ultimately lasted ten weeks — and her team rushed an album out to capitalize on the momentum. That album, also called You Light Up My Life, was a mess that not even Beatles and ABBA covers could save. Boone got lost in the shuffle trying to juggle pop, rock, country, and sentimental ballads. She didn't have the range. Light went platinum, but in three years, Boone's pop career dried up, and she returned to the Christian music circuit.
Lil Nas X's major-label debut, 7, also faces the unenviable task of creating a marketable sound for a new artist in short order. 7 is a 19-minute EP housing about 10 minutes of good ideas, four of which are "Old Town Road," a two-minute smash whose simplicity looks all the more impressive after six more tries. (7 actually features eight songs; it's bookended by two versions of the hit single.) The project feels if not rushed, then fascinatingly flubbed; like a pound cake that sunk, it loses a little form and taste the further in you manage to make it. "Panini" and "Rodeo" are highlights. The former floats on tuneful whistles assisted by bubbly synths from "Mo Bamba" production duo Take A Daytrip. On the latter, Daytrip serves up surf-rock guitars and mariachi horns, and Lil Nas X slides back into the flow from the single. "Rodeo" is For a Few Dollars More to "Old Town"'s Fistful of Dollars: This guy could make a career out of the cowboy shit if he wanted, but he'd rather show you the half dozen other styles he's interested in than stick to one and get pigeonholed.
Pushing past country and rap, though, Lil Nas X ultimately shows how green of a singer-songwriter he is. "F9mily (You & Me)" aims for pop-punk, with production from Blink-182's Travis Barker, but the half-baked lyrics, tinny guitars, and stiff drums don't seem wise to the last five years in creative punk and rap crossovers. "Bring U Down" links with Ryan Tedder for a rock tune that harnesses the menacing guitars of a Nirvana song but plays more like Puddle of Mudd's "She Hates Me" in the way the verses set up a loud and explosive chorus that the mix has no intention of delivering. ("Panini" actually interpolates Nirvana, but only by accident.) "C7osure (You Like)" is a promising up-tempo disco jam, but the hook bites words and melodies from the pleading, post-chorus "You know what I need from you when I get home" line in Drake and Future's "Diamonds Dancing" and, by extension, from the chorus to Kid Cudi's "Teleport 2 Me, Jamie."
Kid Cudi's WZRD era is actually a solid parallel for what Lil Nas X achieves with 7. If you heard Nasarati, Lil Nas X's rap mixtape released last summer under the name Nasarati X, the writing on 7 looks like a concerted effort at steering the artist's sound into broader ground than rap, ignoring the fact that he might not necessarily be built for it. Songs like "Banzup'" and "Thanos (Blow It)" were far from perfect, but they had personality and drive. 7's writing tries to speak to relatable themes in simple terms but unravels on close inspection. The lyrics are slight, and the concepts are silly. "F9mily" drowns its couples-therapy conceit in clichés and Hallmark rhymes. "Bring U Down" takes aim at Twitter haters, but absent the slightest snarl, the lyric makes "You Need to Calm Down" look like "The Story of Adidon." "Kick It" is a take on the jilted-fan narrative that Eminem perfected with "Stan," but there isn't enough meat on the main character (a weed man who gets snippier the longer he hasn't heard from his favorite celebrity client) to write a whole song from his perspective.
On "Bring U Down," "Kick It," and "C7osure," Lil Nas X explores the shock of sudden fame, but he tends to approach the theme from strange angles. These songs illustrate the ways other people start to see him differently, but they rarely say what that feels like, on the artist's side or on the side of the people fighting for his time and attention. 7 is bloodless. It doesn't tell you much about the guy who made it. Musicians don't have to write about themselves, but if you're going to do story songs, you need characters. The most compelling ones this EP summons are cowboys and cartoon characters. "C7osure" and "Panini" are breezy, catchy love songs, and "Rodeo" is a banger amped up by a killer verse from Cardi B, an artist whose patient moves in the wake of her first No. 1 single ought to have given Lil Nas X clues on how to follow up a hit that people don't think you can top. "Old Town Road" still rings off, but dreck like "Kick It" and "F9mily" makes you wonder how many more miles are left in this ride.
*A version of this article appears in the July 8, 2019, issue of New York Magazine. Subscribe Now!