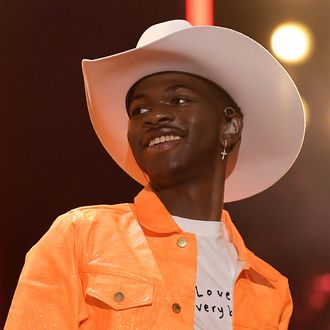 Photo: Jason Kempin/Getty Images
With the horses securely in the back, Lil Nas X is focused on "Panini," a new song from his forthcoming EP, 7. As if "Old Town Road (Remix)" topping the charts for 11 weeks wasn't enough world domination for the 20-year-old rapper, "Panini" (or, at the very least, the lyrics "Hey Panini, don't you be a meanie") will set up shop in your brain. "Panini" doesn't have a country twang, like his megahit does, but it does have a little rock influence. Nirvana's "In Bloom" is interpolated in the song.
"One of the craziest things about 'Panini,' is it introduced me to Nirvana's album Nevermind," Lil Nas X said on Apple Music's Beats 1. "It's like I always seen the cover but I never actually listened to it. And people was like, 'Wow, he sampled Nirvana.' I was like, no. It's like, I didn't realize I was using almost the exact same melody."
Now, Kurt Cobain has a credit on "Panini" and Lil Nas X sends his thanks to his daughter, Frances Bean Cobain. First he took back country, now he's taking back rock? Happy belated Juneteenth to Lil Nas X! Listen to "Panini" below and catch 7 when it comes out tomorrow.