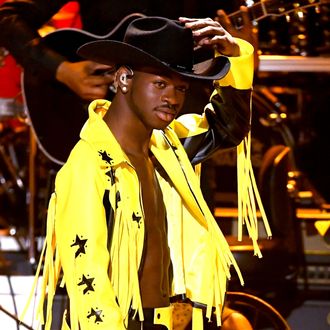 Photo: Kevin Winter/Getty Images
Closing out Pride Month 2019 with a burst of yeehaw energy, Lil Nas X took to Twitter Sunday to make a big announcement: ya'll need to pay closer attention to his art. "deadass thought i made it obvious," the "Old Town Road" rapper tweeted, along with a photo of the rainbow skyscraper on the cover of his new EP 7. Earlier in the day, Nas tweeted, "some of y'all already know, some of y'all don't care, some of y'all not gone fwm no more. but before this month ends i want y'all to listen closely to c7osure," accompanied by a rainbow emoji.
In case you haven't listened to it yet, that specific 7 song features lyrics like "True say, I want and I need/To let go, use my time to be free" and "Ain't no more actin', man, that forecast I should just let me grow/No more red light for me, baby, only green, I gotta go." Nas hasn't specified exactly where under the LGBTQ umbrella he's located, but one thing's for sure: we should have decoded this! Is Taylor Swift the only artist whose potentially gay symbolism we're going to give a deep dive or what, people?!