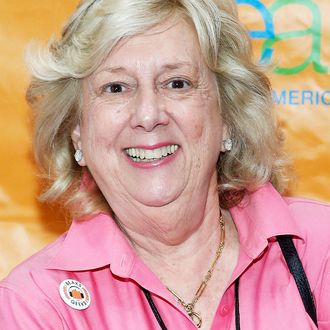 Photo: John Lamparski/WireImage
Following the debut of Ava DuVernay's When They See Us on Netflix, many viewers unfamiliar with the story of the Central Park Five were horrified by the character of Linda Fairstein, then-head of the Manhattan District Attorney's sex-crimes unit, who played a pivotal role in prosecuting five African-American teenagers accused of raping a white female jogger in 1989. The ongoing backlash has been so great that Fairstein, played by Felicity Huffman in the show and now a crime novelist, was dropped by her publicist last week. She also withdrew from the board at Vassar College, God's Love We Deliver, and the Joyful Heart Foundation.
When They See Us producer Jane Rosenthal alleged Sunday that Fairstein had refused to consult on the series if the show's production also consulted with the five now-exonerated men. (In a Daily Beast interview from last week, Fairstein denied attempting to negotiate her involvement with the production.) In an op-ed for the Wall Street Journal published last night, Fairstein attempts to defend her integrity, calling When They See Us "a series so full of distortions and falsehoods as to be an outright fabrication."
Fairstein takes issue with three conceits of DuVernay's show. Firstly, that Fairstein and police rushed to blame Korey Wise, Kevin Richardson, Raymond Santana, Antron McCray, and Yusef Salaam for Trisha Meili's attack due to a toxic combination of confirmation bias, racism, and incompetence. Secondly, that the boys' confessions were coerced after they'd been deprived of food, bathroom visits, and parental presence, a claim Fairstein has also denied in the past. "If that had been true, surely they would have brought those issues up and prevailed in pretrial hearings on the voluntariness of their statements, as well as in their lawsuit against the city," she claims. "They didn't, because it never happened."
Thirdly, that the Central Park Five's exoneration for the rape of Meili following the confession of serial rapist and murderer Matias Reyes means they did not commit the other crimes for which they were convicted. The five were among approximately 30 teenagers in Central Park on the evening of April 19, 1989, during which several people were robbed and assaulted in the park.
"Mr. Reyes's confession, DNA match and claim that he acted alone required that the rape charges against the five be vacated," writes Fairstein. "I agreed with that decision, and still do. But the other charges, for crimes against other victims, should not have been vacated. Nothing Mr. Reyes said exonerated these five of those attacks. And there was certainly more than enough evidence to support those convictions of first-degree assault, robbery, riot and other charges."
In 2001, Reyes confessed to committing the rape alone, a claim corroborated by the presence of his DNA on the victim. All five of the accused, none of whose DNA was found on the victim, were subsequently exonerated and released from prison. In 2003, they sued New York City for malicious prosecution, racial discrimination, and emotional distress. The city settled with them in 2014 for $41 million. On Twitter, DuVernay retweeted a post about Fairstein's rebuttal. "Expected and typical," she wrote. "Onward …"