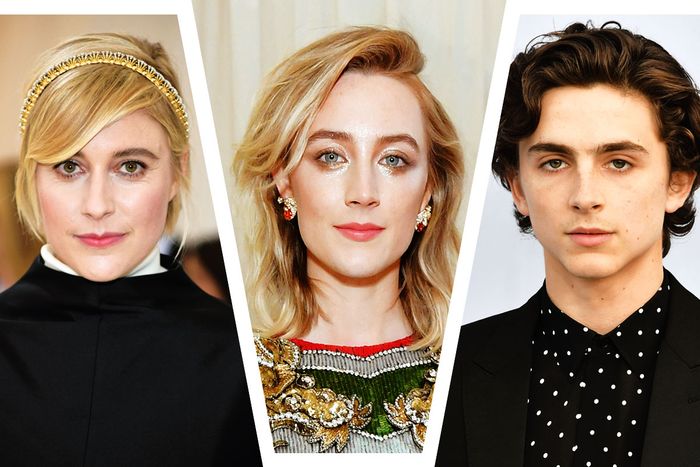 Photo: Getty Images and Shutterstock
Meet the porcelain-skinned March sisters: Jo (Saoirse Ronan), Amy (Florence Pugh), Meg (Emma Watson), and Beth (Eliza Scanlen) from Greta Gerwig's upcoming adaptation of Little Women. The very first look at the film (besides candid Polaroids from Emma Roberts's Instagram) appears on Vanity Fair, alongside Gerwig's thoughts about the story that turned millions of little girls into powerful women. The photos also include a look at Meryl Streep's Aunt Josephine (teeth check: seems normal so far), Laura Dern's Marmee, and Timothée Chalamet's Laurie in vests that won't quit. And good news for everyone still having anxiety dreams about Amma Crellin: Eliza Scanlen doesn't look the slightest bit terrifying in her new gowns.
Just because the film travels back to Civil War–era Massachusetts, doesn't mean Gerwig embraced antiquated ideas about gender and gender expression "[Jo and Laurie] find each other before they've committed to a gender," Gerwig told Vanity Fair. "It wouldn't be wrong to call Saoirse handsome and Timothée beautiful. Both have a slightly androgynous quality that makes them perfect for these characters." The film adds to that by having Laurie and Jo switch clothes throughout the story, according to costume designer Jacqueline Durran. Very Call Me by Your Name of them! The Timothée–Saoirse stans will be thrilled to hear it. Little Women comes out on Christmas Day this year, so warn your family that you're busy from now.