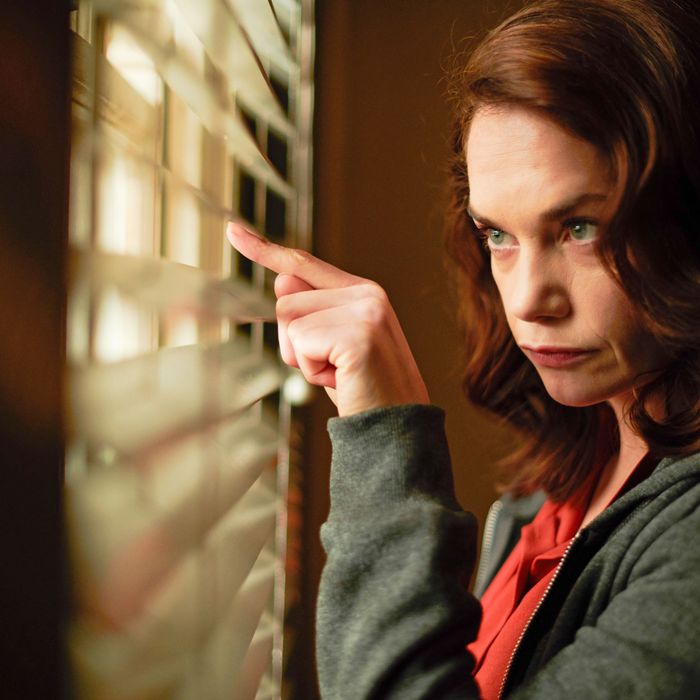 Photo: Des Willie/BBCAmerica
What to do with the man who's always busy saving others but may be at risk of never being able to rescue himself? Let alone that, as Alice points out, Luther hasn't always been pristine in his efforts to protect those close to him. (DS Ripley, yes, but let's not forget poor Zoe.) Mentioning his former partner is a low blow, but then Alice has always tended to hit her intended targets, whether by psychological or more mercenary methods. Episode two of this fifth season gives us the whole colorful spectrum of Alice's capabilities. There's the helpful Belgium flashback, where she viciously dispatched George's goons after they tried to box her out of the jewel-heist haul. Later, we travel further back in time to images of Alice's brutally murdered mom and dad, an act she admits left her more nonplussed than expected, until meeting Luther "made it meaningful."
These two were the original Eve and Villanelle, after all. And like Villanelle, Alice has urges, and just because she has a soft spot for John doesn't mean she won't lash out sevenfold at whoever's even marginally overdue for a killing. In this moment, that means time's up for George's boy wonder, Alistair, home and recouping after his time spent drugged and chained to a bed in Alice's childhood home. She slinks by George's security with ease under the guise of a "welcome home" present for the boss's eldest son, slips into his king-size bed, and snuffs him out while experiencing what can only be described as orgasmic catharsis.
It's very possible she hasn't gotten off quite like that since sexing it up with Luther just before his conscience got the better of him and George screwed her over, a one-two punch that left her hollow and resigned to existing in exile as the world assumed her dead. ("There's not much you can't buy from a retiring officer with a crappy pension and a chip on his shoulder," she reminds him, a canny way of duly cautioning what his own by-the-book future might resemble.)
Alas, as we know, Alice can nurture a grudge, and after poking the bear by kidnapping Alistair and confronting George mano-a-womano, she comes away bleeding and bedraggled and stumbling onto John's doorstep for a bit of ad hoc ER treatment and a familiar face. That's when DS Halliday and DSU Schenk come on the scene to share their suspicions that James Houser was little more than a deke, and that something more sinister might be brewing with Victoria and Jeremy Lake. Luther concurs, but also subtly gestures to Schenk — who has a hunch something's amiss in John's flat — that there's a room full of the still-breathing Alice's DNA upstairs (or at least something that will eventually bear out as proof that London's favorite murderess is up and about). Out Schenk and Halliday go, and in storms George and his boys, who nearly plug holes in Alice and Luther from beneath the attic floorboards and send a very clear message that there is, in fact, nowhere left to hide.
Meanwhile, Jeremy is in a kind of captivity as well, naked and freezing on the floor of whatever bad-deed dungeon he and Victoria have contrived in their otherwise modernist home. She reiterates, and asks him to repeat back, the golden rule: "Play safe." But à la Alice, he's consumed by an irrepressible impulse to harm and maim. (To reinforce their common thread, Jeremy and Alice both utter variations of the same line about their counterparts looking in the wrong direction several scenes apart.) He couldn't resist how scared his victim on the public bus seemed as he crept up behind her and ended her days. And he experiences Patrick Bateman–worthy Freudian slips when consulting with his pre-op patient Eleanor, calling her a "diseased whore" and outright confessing his plans to kill her during the operation. She's bewildered, to say the least, but is lucky to survive, with an assist from Victoria, who shows up for some surgical theater in time to make eye contact with hubby and ward him off from doing further damage. (Like Luther, Victoria can communicate plenty without saying much, and as the two-way mirror suggests, they are distinct in their motivation by the thinnest of veneers.) Too bad, then, that she couldn't intervene before he kidnapped a young woman in her apartment and stuffed her in a piece of rolling luggage, missing encountering her boyfriend by seconds. (Didn't she ever see the moving-van scene in Silence of the Lambs?)
It's becoming clearer that the man Victoria married emerged at some point as a psychopath, and their collective work has since been an experiment in containing and directing his wants. But no one wants to feel kept and controlled their whole lives, be it Jeremy or Alice. And at a certain point, their keeper either finds themselves under sway or sees the endgame for what it is. Victoria's deeper into the former waters than she thought. Luther thought he chose the latter, and now that Alice is back, he's hanging on desperately to the idea that his head is on straight (hence tipping off Schenk to Alice's whereabouts).
This is heady stuff. Unfortunately, there's nary an opportunity for John to reflect, or sleep, or do much else beyond react from minute to minute. His Hail Mary to buy off George so he'll cease hunting Alice so that she can go back to a life in anonymity far away has backfired. George wants her head, though in the meantime he'll settle for keeping Benny strapped to a chair, beaten and electroshocked, as collateral. If we're being honest, George's choice feels a tad rash for a relatively pragmatic crime lord, but it certainly makes for more gripping drama. And amid a comeback season, episode two is Luther's most crackerjack hour since the era when Zoe wept.
Apart From All That:
• Luther's anguish over news footage of London knife attacks was an atypically topical touch for this show.
• Luther may have the most underrated "Next week on …" teasers in TV.
• Let's hope Alice's "I had to be dead, that's how your best relationships end" wasn't foreshadowing. Arguably, she was his worst. Although she might be better off dead.
• James was into some kinky, Audition-style self-mutilation. He was definitely better off dead.
• Love that Jeremy couldn't help but examine a brain scan right in front of Halliday and Schenk.
• It feels as if Luther has a chip on its shoulder. Now all it needs is that crappy pension.