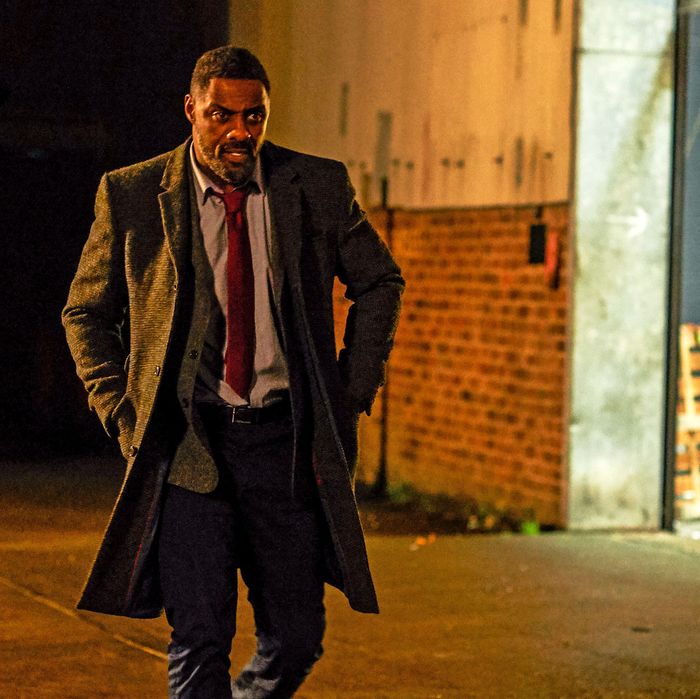 Photo: Des Willie/BBCAmerica
Shame on those of us who thought Luther was done killing off John's closest allies after we all spent a season recovering from DS Ripley's demise. And poor Benny, who survives a particularly tough day in the woodshed with George's goons, only to fall prey to a bullet from the world's handsomest gay hit man, Palmer. It's a noble act of self-sacrifice, with him stepping in for Mark, Palmer's intended target, while managing to fire off a few of Palmer's key features for his old pal Luther, who can only listen on the other end of Mark's speakerphone as Benny goes boom. It's a nightmare outcome for all involved, and even Alice seems as rattled as we've seen her, stunned by Benny's blood spraying across her forehead. At least, as Mark requested earlier, none of it seemed to get on the couch itself.
Benny isn't the only fatality in this tense, if occasionally formulaic (where would shows like Luther be without negligent assistants allowing police to wantonly snoop around suspects' offices?), third episode of a crowd-pleasing fifth season. George's bodyguards should've sprinted in the opposite direction the second it dawned on them that Alastair was dead in his bed. Alas, they meet the bad end of their boss's bullets, in the beginning a warpath that seems more about George regaining control over a spiraling empire and stopping Alice and John where they stand than actually avenging the death of his child. (Incidentally, are there ever grieving family members of anonymous henchmen seeking justice or retribution?)
The tragic irony of Benny's death is that the effort to rescue him from Lock 'N Roller storage captivity — which inspired a cooperative effort between Alice and John — only delays his inevitable end. Benny was always a good egg, and he always knew Alice was trouble. He put himself on the line to help protect Errol, and then Mark, all so that his friend and colleague John could get both the gangster and the girl. His courage emboldened by that nip of top-shelf whiskey, Benny's fate was sealed.
If anyone's in obvious jeopardy from the outset, it would be Penny, who is more or less entombed inside Jeremy's secret Stockholm-syndrome cellar, where he's keeping her strapped and scared, promising she'll grow to love him. Who's to say whether his intention is to groom an obedient substitute for Vivien, who's clearly drawn lines about the crimes she's willing to commit to feed their fetish, and whom he was willing to drug into deep sleep so he could go about his kidnapping business? Maybe he thinks that once his experiment is complete, he and Vivien can share her like a sex slave, akin to the woman they mutually had their way with in Australia. (What happens in the outback….) But as Halliday deduces — thanks again, worst surgeon's admin assistant ever! — Jeremy's lacking even more good sense than usual thanks to an inoperable brain tumor, so there appears to be no rhyme or reason behind his action aside from pure, uncorked mayhem. He is George without an M.O. and a far more specific appetite for kink.
As Jeremy slinks away from his hospital posing as an EMT, his beloved Vivien — unwilling to acknowledge weakness by conceding that she was under the sway of Jeremy's coercion — takes the fall for now. As the action zagged from Luther and Halliday's race against time to find Penny (she's behind the wall, John, not the books!) and Vivien's desperate bid to get rid of her, it was apparent the young innocent would stumble free (kudos, though, for having her manage her own exit) and they'd cuff their psycho psychiatrist perp. Now all the coppers have to do is break down her defenses and compel her to help them get inside Jeremy's head before he cuts off someone else's. Piece of cake.
Amid all the thrilling angst and loss and misery, the real joy in this penultimate hour is watching Ruth Wilson let 'er rip as Alice, be it behaving like a petulant child in the back of John's Volvo (have I mentioned how she is the model for Killing Eve's Villanelle?) or becoming notably aroused at the prospect of imaginative chaos. The Affair was a huge, star-making opportunity for Wilson, but witnessing her once more in Luther, it's easy to assume she got tired of playing a lost, victimized Long Island outcast. She devours the role of Alice no less zealously than Alice consumes her prey. And if she and John's dynamic is more than a little influential on how Phoebe Waller-Bridge has brought Eve and Villanelle to life, it also uncomfortably reflects something about Mr. and Mrs. Lake. John and Alice thrive on a toxic, though intoxicating, codependency that seems destined to destroy them both. Their relationship is a blurry role-play with tenuous rules but soft boundaries. If John's not careful or more self-aware, he may wind up in a grave not far from Benny's, or a prison cell somewhere on the same lot as Vivien.
This is going to be a bang-up finale, fully reminiscent of season one's dramatic standoff opposite the late, murderous DCI Ian Reed, with several of the same key players — Alice, John, Mark (yay, Mark!) — gearing up now for a showdown with George and whoever's left of his crew. Let's hope for Mark's sake Alice returns him home to his wife, with all of him left the way she found it.
Apart From All That:
• Suffice to say Alice would fall more in the Sartre camp—or at least per popular interpretation—with how she views "other people," aka John's weakness.
• I found it touching that Jeremy even removed Vivien's eye makeup.
• What the hell is a "squizz around"?
• Thankfully for Penny, Vivien never got a chance to "strangle you with your own ovaries."
• That backseat chat between Martin and George, and both of their exasperated demeanors this season, spells likely demise for each.