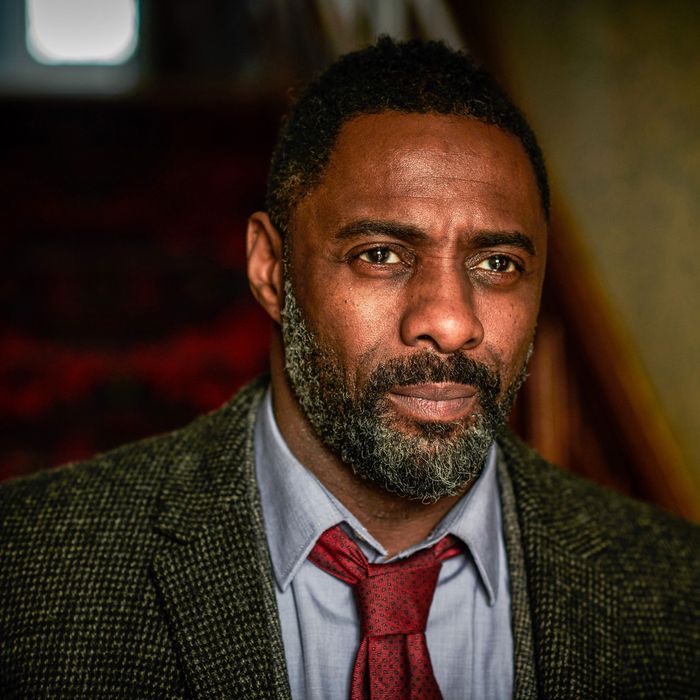 Photo: Des Willie/BBCAmerica
DSU Schenk has had better days. First, his honorable charge Benny turns up dead in the back of a van outside an abandoned industrial squat. (No shortage of those in London, it seems.) Next, he discovers Luther lied about Benny's whereabouts, thanks to one last bit of self-preserving deception by good ol' George, the only man in England with more lives than Luther himself. The coup de grace? Coming upon the freshly slain corpse of DS Halliday, crumpled in a heap outside the Ballarat Street townhouse where Jeremy Lake lay beaten and handcuffed to a radiator (Luther's signature move, apparently). But wait till Schenk gets a load of what's inside the crime scene: a ghoulish tableau of dead bodies — including the poor schoolteacher who atypically avoided victimhood in the season premiere — their faces shrouded by 3-D-printed masks of Dr. Lake's likeness. It's a family portrait that Leatherface and his inbred Texas Chainsaw clan might have aspired to with a bit more sophistication.
First, Martin must lead his men to another living symbol of their city's transition from gritty capital city to cosmopolitan hub: a construction site zoned for extravagant flats. Inside, Luther and Alice are dueling it out, exchanging a lot of ultimately meaningless words about life, love, loyalty, and purpose, until Alice, dangling perilously from atop a scaffold and clinging tenuously to Luther's hand — you can guess where this is headed — frees herself and fatally plunges to the concrete below. Schenk arrives to find Luther shot, cut, and staggering to his feet, struggling for breath. He helps his mentee upright and readies him for a proper perp walk, wordlessly betraying disappointment, sorrow, sympathy, and, primarily, exhaustion.
Everyone who's lived through Luther's five seasons of spectacular deviance and destruction is tired. Schenk is a shell of himself. John hasn't slept in close to a decade, and even George can only stare gloomily out the window of his mansion after settling affairs with Luther and Palmer, sipping on whiskey and contemplating his adversary's admonishment about futile zero-sum turf wars. They are each bewildered by a world — London offered here as microcosm — in which the cavalier ways law and disorder once sorted themselves no longer fly, even as the scale of madness has grown crueler and more vicious. The days of quid pro quo, consequence-free collateral damage, and bodies buried beneath wet cement are dimming. The danger is hiding just aboveground and in plain sight as everyone goes about their business occupying deluxe apartments in the sky and relying on smart-home sensors and CCTV to keep them safe.
Or it's hiding right outside your property with a fully loaded automatic weapon, ready to take it seriously old-school. That is, if your name is George Cornelius and you still haven't made amends for robbing Alice of riches and setting her up to die. Before tying up loose ends with Luther and Halliday, everyone's favorite not-at-all-psychotic (in Mark's observation, at least) killer lights up George's house like it's the set of a Die Hard sequel, somehow missing her prime target and having to scurry along when Schenk and his firearms unit swoop in to interrogate Cornelius for his role in Benny's death.
She and Martin share plenty in common, as it turns out, each incensed by Luther's lies — in Alice's case, that John had bagged and tagged the irksome George — and prepared to bring him to account. The similarities end there, of course. Alice's version (especially after failing to draw blood on George) ends with her assassinating Halliday in broad daylight out of spite and luring John into a sadistic game of cat and mouse. Schenk was comparatively content to zip-tie George for a bit and threaten to bring what's left of his empire down unless he can deliver compelling evidence that he's been wrongly accused.
Though maybe Mark's onto something when he reasons that Alice is more troubled murderess than irredeemable madwoman. Side by side with Jeremy, her motives and methods are practically romantic. When he's finally put down by Luther, who pounds him to a pulp before shackling him to the heater, Dr. Lake merely cackles and beseeches, "What did you think? Did you like it?" This doesn't surprise Luther, exactly. They already determined during their interrogation of Vivien that her husband is needy and vain, exponentially more so since cancer warped his brain and signaled his time was nearly up. It does, however, disgust John, and provides the kind of reassurance he, and we as his audience proxies, need on occasion that he's essentially good.
Halliday, in her final moments alive, isn't convinced. She needles John about whether he used her as bait, tearful and somewhat scared. Her instincts haven't failed her to this point, so why would they now? Nor do they, in the end. Luther's poor choices and reckless behavior — all in the supposed interest of saving innocent lives — lead an enraged Alice right to her, bullet loaded and aimed square at her head.
Some time behind bars might do Luther well, and when he gets out, perhaps some solitude by the sea is once again the best medicine — or maybe George will be waiting with an offer to help replenish his depleted henchmen ranks. Luther is less inseparable from his identity as a cop than he is from London itself. He is its fallen superhero and flawed vigilante, fighting crime and endangering those he loves, cloaked by his natty trench coat and Volvo four-door. Season five got a tad too trigger-happy toward the end, and Luther on the whole hasn't quite lived up to its rollicking start some nine years ago, but compared to the procedurals put out before and since, it remains a singularly twisted rush.
Apart From All That:
• Killing Eve might owe a debt to Luther, but this episode's grisliest murder — the gentleman vivisected upside-down — merits tipping its hat to Phoebe Waller-Bridge.
• Alice and Mark in a meat locker forever, please.
• Couldn't find an actual Hotel Octavian in London, though perhaps Vivien and Jeremy met at one of this group's fetish events.
• Genuinely never considered that deciphering is rooted in the existence of actual cipher text.
• Nice shout-outs to former DSU Teller and cuckoo Henry Madsen.
• "Happy Families" = heebie-jeebies.
• Anyone else think of Aphex Twin when they saw Jeremy's tableau?
• I know Penny lived, the schoolteacher still could have, too.
• Ah well, toodle pip!