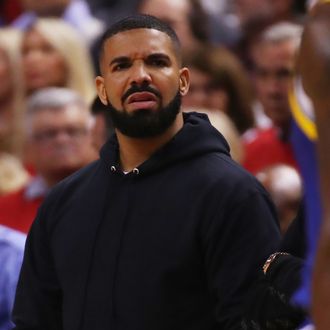 Photo: Gregory Shamus/Getty Images
Whether you're a basketball fan or not, you may have noticed Drake acting a general fool during this year's NBA Finals, animatedly rooting for his beloved Toronto Raptors over the Golden State Warriors. During Sunday's Game 2, for example, the rapper wore a (seemingly hand-made) sweatshirt featuring Home Alone's precocious abandoned protagonist Kevin McCallister, presumably as a joke at the expense of Warriors player Kevin Durant, whose injury has prevented him from playing in either of the Finals' games so far.
While hopefully KD is somewhere in a hyperbaric chamber healing and missed the whole thing, Macaulay Culkin definitely appreciated Drake's troll and wanted to weigh in directly. "Hey @Drake I'm right here, bro," the Home Alone star tweeted on Sunday, along with a snapshot of the sweatshirt bearing his face. "DM me. See you at the BBQ." Despite Drake's best efforts, the Warriors still took home a win, tying up the series, so expect to see Drake just whipping through a Toronto-area Michaels this week, coming up with some kind of Kevin James/Kevin Hart/Kevin Bacon visual joke that will strain the observer's calf on sight.