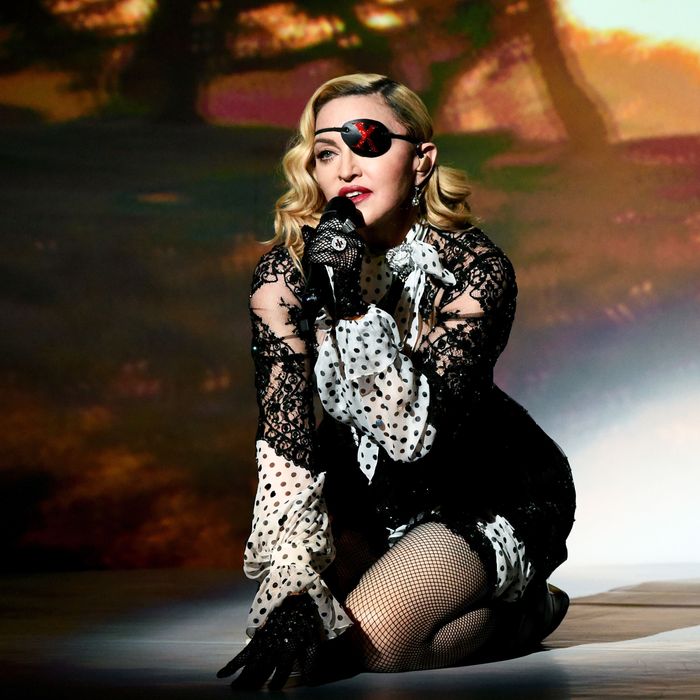 Madame X
wants to be Eva Perón again, but it feels more like
Carmen Sandiego.
Photo: Kevin Mazur/Getty Images for dcp
We honor the first 20 years of music legends' careers for the drive that elevates them from anonymity to celebrity and the vision that keeps them in flight throughout the best years. We spend the next 20 years weaponizing their own standards against them, calling each album a "radical departure" or a "return to form" or else quietly losing interest in everything but the classics. There's more love for "Taxman" and "Drive My Car" than "Say Say Say" or "Got My Mind Set on You." The Queen movie's narrative ends early at Live Aid; the Elton flick calls it at "I'm Still Standing," before things get weird in the '80s. People want to remember their favorite figures at their best, but the miscalculations and recalibrations that happen afterward are just as integral to the story of a brilliant career as the moves made at the artist's peak.
Madonna Ciccone moved to New York City from Detroit at 20 years old in the late '70s with a dream of making it in showbiz, be it as a dancer, a rock star, or a singer. In five years, she maneuvered through the eclectic scene at the lower-Manhattan nightclub Danceteria — which collected cool kids who didn't make it through the door to party with the socialites and celebrities at Studio 54 — and pieced together a demo a resident DJ ran up the pipeline to the label heads who released her early singles and self-titled debut album. In ten years, Madonna was a pop star with a dozen international hit records anxiously setting her sights on a lasting film career. By year 20 of her career, she'd scored a Golden Globe for Best Actress in a Motion Picture and a New York Times best seller and topped the charts again with a studio album recounting everything she learned as a new mother and a student of Eastern mysticism and European dance music.
If you're the kind of music fan who learns by scrubbing lists of the best of things, you might see Ray of Light as the last essential Madonna album (or hang around 'til 2000's exquisite Music, lured in by the folk-meets-Fennesz inversion of "Don't Tell Me"), but trailing off there, you miss a world of bops, flops, and experiments Madonna pursues out of sheer tenacity and self-preservation. Trouble chased for Madonna in the first 20 years of her career; in the next 20, she found it by courting it. Where early moments of provocation — the bridal-gown romp at the 1984 VMAs the singer says was improvised when her shoe came off, the videos that were too hot for MTV, the songs about abortion and Catholic guilt — were timely commentaries on the tug-of-war in the '80s between the brutish, horny American entertainment industry and the country's saintly social mores, the Madonna controversies of this century seem engineered for indignant reaction. "Madonna's priority is to keep people watching whatever she does," Times scribe Jon Pareles wrote in a withering review of 2003's American Life. "She maintains a presence, not a message." (He's not wrong about Life, but he couldn't know that this nervous media omnipresence was where the whole pop machine was headed, that soon every release would arrive in a cloud of noise and promo.)
American Life is an intriguing point of interest this summer, as Madonna has rolled out Madame X, an album (her 14th) that revisits and restructures some of the ideas floated in her fascinating Bush-era misstep. Life expanded on the folktronica crossover of Music's "Don't Tell Me," incorporating acoustic and electric guitar sounds and samples into a body of downcast songs workshopped alongside French producer and Music co-conspirator Mirwais. The aim, it seems, was to speak to the state of a nation at war while reflecting the insecurities the singer experienced in the wake of the catastrophic reviews for her and then-husband Guy Ritchie's 2002 box-office failure Swept Away. Barring the title track, whose provocative anti-war music video was pulled because Madonna worried that people would misconstrue the message, the American Life singles largely missed the "Hot 100" entirely. The album's not without offbeat ideas — name another time one of the biggest pop stars dared to sell a four-minute song where she calls herself stupid over the lick from the Stooges' "I Wanna Be Your Dog" — but its lasting legacy is that of a curious anti-pop downer.
Madame X finds us again at war, this time among ourselves as much as the world at large, and again, Madonna, Mirwais, and Kanye collaborator Mike Dean deliver an album about the ways the planet sucks right now and how that makes the artist feel. The songs were conceived during time spent in Portugal, where Madonna moved "to be a soccer mom," as her son David courted schools near Lisbon. In time, she grew restless and sought out local creatives. The title of the album is an expression of the singer's tireless pursuit of art and culture — "Madame X is a secret agent, traveling around the world, changing identities, fighting for freedom, bringing light to dark places," she says in the prerelease trailer — and a callback to a nickname given by the influential dancer and instructor, Martha Graham. The album surveys world disorder through Madonna's eyes, but the album gets more out of its cultural explorations than it gives back. (News items about Madonna's comings and goings in Lisbon are a slight rejoinder to this album's selfless messaging.) Madame X wants to be Eva Perón again, but it feels more like Carmen Sandiego.
The first five songs are a world tour. Opener "Medellin" is a gorgeous, gauzy duet with Colombian reggaeton luminary Maluma. "Dark Ballet" travels in three movements from trap to classical music to an outro that sounds like robots playing Tchaikovsky's "Nutcracker Suite," like Wendy Carlos's Switched-On Bach. "God Control" turns on a dime from ominous choir vocals to sleek disco, like a party after a protest. "Future" questionably pairs Quavo and reggae; "Batuka" is the kind of drum-driven call-and-response number M.I.A. and Diplo sold to the international community on Piracy Funds Terrorism 15 years ago. In spite of proclamations of solidarity in "Killers Who Are Partying" and "Extreme Occident," Madame isn't Madonna's world-disorder album or even her Brazil album, as "Crave" and "Crazy" punctuate, serving up breezy trap-pop tunes back-to-back in the middle of the album. It's an everything-but-the-kitchen-sink album in the same spirit as 2015's unpredictable Rebel Heart, the logical conclusion for an artist who spent the last 20 years trying to figure out what sound she should and should not be making.
Madonna is a shape-shifter. She shows the face the moment requires. When American Life tanked, she regrouped with Confessions on the Dance Floor, a further adventure in the sound of her first year in New York, like Frank Miller's Caped Crusader throwback Batman: Year One. The referential, self-mythologizing Confessions was followed by a modernist overcorrection in 2008's Hard Candy, a team-up with Pharrell, Timbaland, and Justin Timberlake that didn't dig into how cool of a concept it could've been until middle-album deep cuts like "She's Not Me" and the flawless, underrated Madonna, Pharrell, and Kanye West collaboration "Beat Goes On," a no-brainer of a hit that never got a chance to shine as a single. 2012's MDNA called up Ray of Light producer William Orbit again, this time to plunk the singer in the middle of a lot of fussy EDM tunes that already feel dated. Art moves quickly; Madonna works hard to keep pace.
In all these twists, Madonna is trying to locate a balance between her legacy and what works on the radio, between what her fans want and what keeps the attention of the casual listener. But her sense of timing isn't what it was. Hard Candy arrived too late in Timbaland's decadelong hit streak to shine. The right time for the bleating synths and taut house rhythms of MDNA was the early aughts, when American audiences got wise to Daft Punk, Basement Jaxx, and the Chemical Brothers. (In the alternate universe where Madonna and Daft Punk meet and actually make records together, the underdog narrative she has fought for the last 20 years doesn't exist.) In spite of their flaws and lofty concepts, Rebel Heart and Madame X feel more grounded than their 21st-century predecessors because the animating idea is just Madonna being Madonna. They're true to her history in the ease of the dance-floor scorchers and in the moments of overeager cultural safari and in the uncertainty about which incarnation of the singer is going to show up from one song to the next. The records in the back catalogue might be more slick and effortless, but you still keep coming around for more, because it's fascinating to see how her mind and music work. At 60, Madonna still has a lot to say. It makes you wonder what all she'll get into by 80.