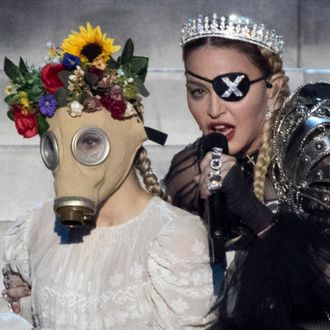 Photo: Michael Campanella/Getty Images
Did Madame Bouvier ever have a number one pop album? How about Madame Curie? While all of the other mesdames struggle to produce even one hit, Madonna's new album Madame X has debuted at the top of the Billboard 200. The stellar debut earned Madge her ninth number one album out of her forty-year, fourteen studio album career.
Madame X joins Madonna's 2012 album MDNA, as well as 2008's Hard Candy, 2005's Confessions on a Dance Floor, 2003's American Life, 2000's Music, 1989's Like a Prayer, 1986's True Blue and 1985's Like a Virgin, at the top of the charts. Meanwhile, Madame Tussaud not only has zero bops, but has to stock all her museums with at least one wax statue of Madonna. Just humiliating.