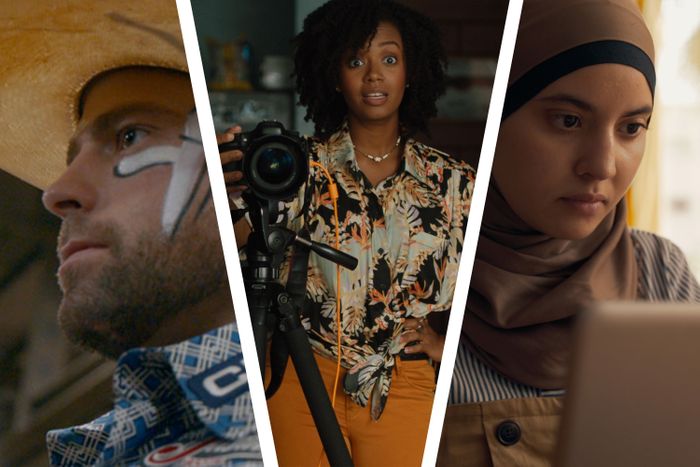 Photo: Courtesy of Mailchimp Presents
Even the most motivated, hardworking, and innovative minds need an entertainment break every now and then. Maybe it'll just be a break, or maybe it'll lead to a breakthrough. Thankfully for our media-obsessed world, Mailchimp just rolled out a content platform with shows you can sink your eyes and ears into right this second. Mailchimp Presents houses a collection of interesting stories, podcasts, and long-form entertainment intended to inspire the creative brain. We decided to be the judge of that, so without further ado, here's our guide to what to enjoy right now on Mailchimp Presents.
If
you're
seeking
something
out
of
the
ordinary…watch
Unlikely
Business
Lessons.
This unscripted, documentary-style series focuses on stories you wouldn't see coming (like that of an ex-cult member, if you can believe it). Sit back, relax, and don't say we didn't warn you: you've never seen anything like this before.
If
you're
overdue
for
some
high-quality
laughs…watch
Trade
Show
Show.
A well-made, comedy-filled mockumentary is always welcome here. The Trade Show Show steps into the journeys of three entrepreneurs with a few unexpected twists and turns along the way.
If
you
find
inspiration
in
real
people,
real
stories…listen
to
Going
Through
It.
Sometimes you need to hear it from someone who has been there. Ann Friedman hosts this empowering podcast with guests like Rebecca Traister, Hillary Clinton, Samin Nosrat, and more, spitting wisdom, discussing personal and career struggles, and telling their honest stories.
If
you're
into
photography
and
unique
POVs…watch
Hamburger
Eyes.
Hamburger Eyes is a documentary exploring the California-based photo magazine of the same name. The featured photography spotlights local artists and striking neighborhood visuals that capture the urban essence of the early-2000s Bay Area. Talk about eye candy.
If
you
love
something
easy
and
light-hearted…watch
Taking
Stock.
Taking Stock follows the quirky day-to-day of a stock photography agency, a.k.a. a mysterious world of potentially hilarious and random occurrences. This series is sweet, simple, and a seriously easy watch.
If
you've
been
on
the
lookout
for
a
worldly
escape…watch
Wi-Finders.
This documentary series highlights professionals who are working remotely and transforming the world around them. Check out each episode's dive into a different city and the hardworking humans making a living from anywhere.
This is paid content produced for an advertiser by New York Stories. The editorial staff of Vulture did not play a role in its creation.