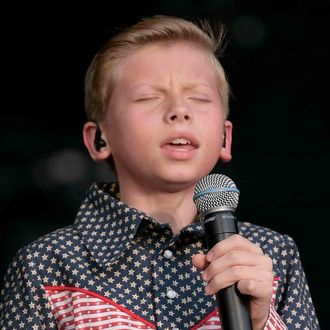 He's back!
Photo: Jason Kempin/Getty Images
The Yodeling Prince Mason Ramsey is back. The 12-year-old viral sensation returned this week with a new song called "Twang," along with a music video. The so-called "motion picture," according to his Instagram, features Ramsey using his cowboy charms in school to woo a girl twice his height. He sings about how she loves him for his "twang" and "reminds her of a little Hank." He stands on top of tables with his fashionable boots and finds a rose to give her before he's quickly dragged away (by just his tiny arm) into the principal's office. He quickly commandeers the school PA system, and somehow manages to avoid detention and sing his little heart out.
Ramsey found fame last year as an adorable 11-year-old kid singing a cover of country singer Hank Williams's "Lovesick Blues" in a small southern Illinois Walmart. Now, he's headlining his own (sold out) tour called How's Your Girl & How's Your Family? and has an EP. He also supported Florida Georgia Line during their 2018 tour and was named among Billboard's "21 Under 21" class of 2018, if you want to feel old and unaccomplished in comparison. He's been to Coachella and the Grand Ole Opry (thanks to Ellen), and released Christmas music you can add to your holiday playlist alongside Mariah Carey. The tiny reincarnation of Hank Williams will embark on part two of his headlining tour starting in October in Atlanta.