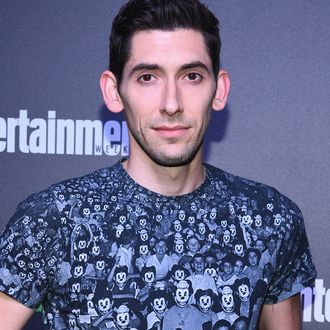 Max Landis.
Photo: Dave Kotinsky/Getty Images
Max Landis, a popular Hollywood screenwriter whose recent credits include Bright and American Ultra, has been accused by eight women of varying degrees of sexual and emotional abuse. In a extensive new report published by the Daily Beast, the women — most of whom had romantic relationships with Landis — described him as everything from a "serial rapist, gaslighter, body shamer, to a physical and psychological abuser." Many of the women also claim that Landis, the son of director John Landis, isolated them from their friends and family so they would become emotionally dependent on him.
"He sees something shiny and he wants it. He's like, I have to have it," one accuser explained. "He would systematically try to have sex with all the women I knew. We're not people to him." Another accuser added, "Abuse is slippery. Max did, somewhat, announce that he was abusive. That was what was so disarming about his particular brand of manipulation." Landis refused to offer any comment to the Daily Beast about the claims.