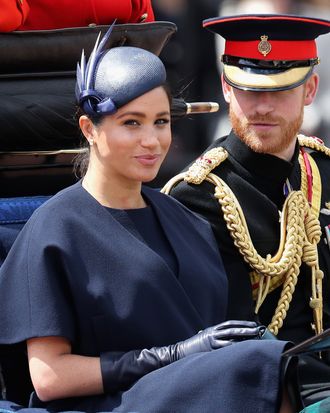 Photo: Chris Jackson/Getty Images
Since Meghan Markle and Prince Harry welcomed their first royal baby — Archie Harrison Mountbatten-Windsor — last month, we've seen the new father out and about at various official events. Meanwhile, Markle has been on maternity leave and avoiding President Trump. But the Duchess of Sussex stepped out on Saturday for a surprise appearance at the queen's official birthday celebration — her first public outing since giving birth. Markle was spotted riding in a horse-drawn carriage with Prince Harry, as well as her stepmother-in-law, Camilla Parker Bowles, and sister-in-law, Kate Middleton, during Trooping the Colour (British spelling intended), the annual celebration marking the queen's birthday (but not her actual birthday, which is in April). She was spotted wearing an exquisitely British navy hat, as well as navy leather gloves, coat, and dress.
After the parade, Markle joined the rest of her royal family — sans baby Archie of course, as he is, uh, a baby — on the balcony of Buckingham Palace for the traditional photo call as planes flew overhead. There, she took off her coat to reveal the white shoulder designs on her Givenchy dress. We look forward to the Lifetime recreation of this moment in ten months.