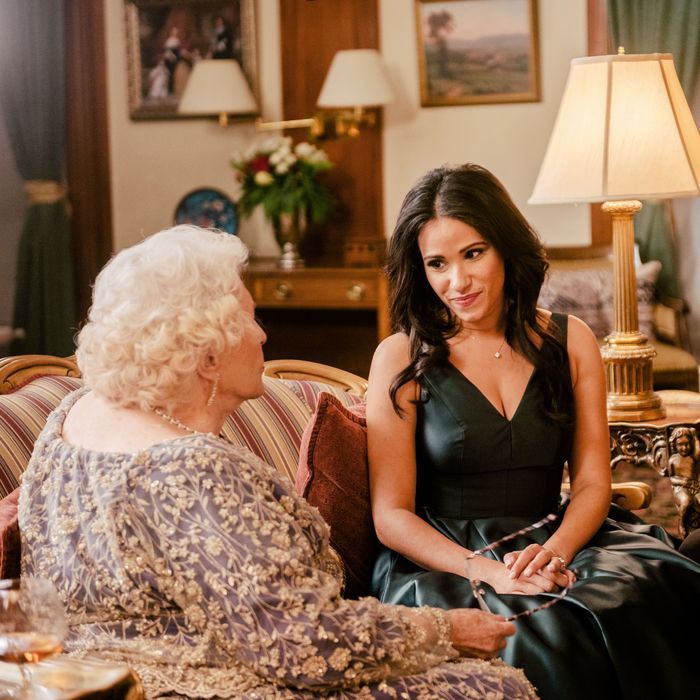 Maggie Sullivan as Queen Elizabeth II, Tiffany Smith as Meghan Markle, and Charlie Field as Prince Harry in
Becoming Royal
.
Photo: Sergei Bachlakov/Lifetime
You best believe Lifetime tapped into the royal Zeitgeist once again for Harry & Meghan: Becoming Royal, which, in the network's classic style, turned the most recent happenings in Meghan Markle and Prince Harry's romance into a frothy 90-minute romp. (Wedding! Palace intrigue! Poo hat!) But enough about that. You probably know all about the black nail-polish drama. We're instead here to tell you how Tiffany Smith, a presenter turned actress who made her leading role debut with the film, could be Markle's long-lost sister. No, twin sister. Their similarities freaked Vulture out so much that we couldn't help but give Smith a call to learn all about her filming experience, and how she's adjusting to looking eerily like one of the most prominent people in the world. She's thrilled!
When was the most recent time someone mistook you for Meghan?
Well, I'm not pregnant. [Laughs.] It does happen quite a bit, those people who comment, You know who you look like? I'm always very flattered. Meghan is amazing and beautiful. If you want to think I look like her, I'll take the compliment, and it happened to work out very well for my acting career! The funniest one was I was training for a half-marathon while in London for work. It was before Meghan and Harry got married, and I was wearing a Dodgers baseball hat and colorful leggings — very California. I ran in front of Kensington Palace and figured someone should take my photo, since I had a cool job abroad and was training for this big thing. I stopped someone, he took the photo, and while walking away he said, Sorry miss, but are you Meghan Markle?
Ha, yeah, and of all the people in the world to be a doppelgänger to, Meghan is one of the best I can think of.
It's one of those things where I really believe everything happens in the right time of your life. I love this analogy: When you look at a tapestry, in the front is a beautiful picture, but in the back it's a menace. That's how I feel life can be. You don't see all of the pieces until they come together a bit more. I had no idea I'd be acting now and be at the right age for this role, and the fact Lifetime wanted to make this film to begin with. Everything came together at the perfect time.
Did you two ever meet while she was still acting?
We didn't. I was doing a lot of presenting at the time when she was on Suits, and I only started seriously focusing on acting three or four years ago. She wasn't going out to the same auditions as I was with her network role. I did have friends who covered Suits and went to the set a lot, and they would text me things like, This actress looks a lot like you!
Harry & Meghan was your first leading role. Did you have any hesitation pursuing it, knowing there might be a chance of being typecast as "the woman who looks just like Meghan Markle"?
There's so many roles where you want to look like the character. I just happened to look like Meghan at the right time. The only part I was a little nervous about was that it was someone so public, and people have a strong connection with her, myself included. I wanted to make sure I did it to the best of my abilities. Anything I do I want to feel that way, coupled with the fact I have so much respect for Meghan. The hardest part, for me, was making sure those intimate and emotional scenes felt real, because those are the things we've never seen on camera.
Did your audition process begin with sitting in a room with a bunch of Meghan look-alikes? Walk me through that whole experience.
It started with my friend sending me the casting breakdown of the role. She was like, If your manager hasn't told you about this, he definitely should! So I asked him about it, and he absolutely did send my name to be considered beforehand. It was the fastest response from a casting office ever. For the first audition, it was just me and no other girls. I crossed paths with one girl, but I was so focused on my lines that I didn't take notice. I talked about how much I've connected with Meghan's story — I'm multiracial, my parents got married in the '70s in Los Angeles, her and Harry's relationship opened up a lot of wonderful conversations with me and my parents. And of course I told my "Dodgers hat at Kensington Palace" story. I wanted to make sure they knew other people saw the resemblance. [Laughs.]
When I went in for the callback, though, there were a lot of different girls. All different versions of Meghan. My secret weapon, I think, was that I love fashion. There are so many Meghan websites where you can track what she wears. I decided to dive into that research and go for a casual look she would wear, since the audition scenes were the behind-closed-doors ones. After the audition ended I thought to myself, I did everything I could do, if I don't get this, it wasn't the role for me and another role is coming. And a week later, I got the call! I had a little dance party by myself.
One of the things I enjoyed about the film was how the dialogue exactly mirrored Meghan's various public appearances — right down to her mannerisms. Did you go on a YouTubing spree to nail those scenes?
I definitely started with YouTube and Instagram. I also went back and watched a lot of Suits. I tried not to have my phone on set to be as present as possible, but for those scenes that were exact re-creations, I was like, Can we have printed pictures, videos, clips, everything! I love their engagement interview — there's a tiny moment at the end where their microphones are off, but they're still being adorable together. It was important to remind myself that, yes, they have this very public relationship, but they're a man and a woman who love each other and are normal. I also worked with a wonderful acting coach to help me flesh out little mannerisms. There were certain things about Meghan I picked up on — she tucks her hair back a little bit, and looks up through her eyelashes sometimes — but I tried not to get too caught up about the little things.
As soon as you put on clothes that embody her, too, it helped a lot with staying in the headspace of Meghan. When you put on a show-stopping wedding dress like that or a suit look, you feel very different. The Los Angeles "spiritual gangster" vibe is how I dress on a regular basis, but I always love to dress up for big events. The moment I first stepped on set with the wedding dress, it got quiet for a second and everyone was weirded out. Shout-out to my parents for the looks!
Do you see this as a role having a lot of longevity for you? Would you be interested to keep playing Meghan in future films and shows?
That's a question for Lifetime. [Laughs.] I really did have such an incredible time on this project. I can't imagine that if we did it again, it wouldn't still be an incredible experience for me. We'll just have to wait and see.
I'd be very surprised if Netflix didn't have you on their radar for The Crown by now.
I'll admit, I've gotten text messages from people being like, I can't wait to see you in The Crown. [Laughs.] That would be very nice.