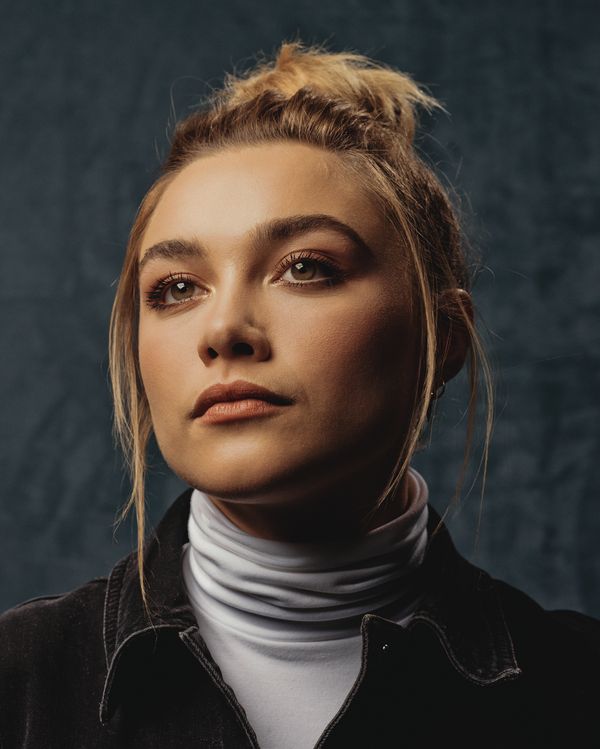 Florence Pugh.
Photo: Ryan Pfluger for Vulture
Everyone's head remains on in Ari Aster's new horror movie, Florence Pugh promises. She's starring in Midsommar, Aster's follow-up to last year's off-with-your-head horror breakout, Hereditary. Midsommar's 140 minutes track a summer vacation in haunting brightness reminiscent of Technicolor, with jump-scares exposed to the Swedish sun: "There are some pretty sketchy moments," Pugh teases, "but there's no decapitation." This time around, the subjects simply lose their minds.
Pugh's Midsommar character, the grief-stricken girlfriend Dani Ardor, is part of a caravan of college students who travel to the dreamy Swedish compound of Hårga in between semesters. Dani is not only mourning the grisly deaths of her family members, she's preparing herself for what seems to be the inevitable end of a years-long relationship with her boyfriend, Christian (Jack Reynor). Christian only invited Dani on the boys' trip out of guilt, and Christian's friends have made their disdain obvious. At the compound, each young American becomes intrigued by the colorful Swedish cult that resides there, but only Dani seems as attracted to it as she is accepted by it.
Pugh read the script, Skyped with Aster, and then put herself on tape to play the girl at the center of a personal and spiritual crisis. "Everything about the script was so colorful and alive," Pugh says. "So musical, and horrible as well." Aster has called it an "adult fairy tale," a label his star rejects: Shouldn't a fairy tale have a happy ending? "There's this community that's found in the middle of nowhere and lives by very pure and ritualistic ways of living, they seem like very happy people and they give back to the Earth. That is certainly very much like a fairy tale. But I don't suppose what happens to some of the characters is idyllic."
The made-up Hårga is idyllic though, glorious and green, looking like a destination engineered for a million Instagram likes. The set was painstakingly constructed in Budapest, where Midsommar filmed. "The entire community had been built, all the buildings. When you walked on the set everyday, you really were walking onto a village," Pugh says. Hårga appears fecund and remote, populated by pastel-painted buildings and a community permanently dressed in embroidered white-linen caftans, all of which communicates an impossible sense of cheeriness. "The runic symbols were designed [for the movie]. All of the artwork was designed. Lots of the buildings had hand-painted drawings on the wall. It was just totally magnificent to see. I can't believe that it got taken down and put into a box somewhere."
Pugh is 23 and ebullient, laughing in coarse guffaws throughout our conversation. She calls herself a scaredy cat, who believes the animated movie Coraline is one of the most frightening things she's seen and who only made it through watching Hereditary because she was so intrigued by Aster, who was at the time of its release already casting for Midsommar. "I don't think I have any odd rituals," she says, when I ask if she's practiced anything close to the Hårga cult traditions, which include gulping down hallucinogenic tea, dissecting bear corpses, dancing until your legs can't carry you anymore, and quasi-orgies. She pauses, then adds: "But maybe I should get one!"
The day before Pugh started shooting Midsommar, she says she was "terrified. Totally terrified." Playing Dani meant pulling off entire scenes of keeling over and releasing giant wails of anguish as chaos unfurled around her. Almost every frame of Midsommar has a dozen moving parts, even when the camera is fixed on her sobbing face in a bathroom mirror. "I made sure that I listened to a lot of music, and that helped me get there," Pugh says. (She mainly listened to Ólafur Arnalds's album re:member, if you're in the mood for music to cry to.) "I found quiet places on set where I would go and put headphones on, and just start crying."
Post-Midsommar Pugh will be in Little Women, the Greta Gerwig remake that brings together a vision board of 20-somethings: Pugh stars as the bratty younger sister Amy, alongside Saoirse Ronan, Timothée Chalamet, Emma Watson, and Sharp Objects' Eliza Scanlen. (There is a Little Women group text, Pugh confirms. It's called "Big Chicks," and it's filled with "photos of us in our funny costumes.") Laura Dern is playing Marmee, and Meryl Streep is playing Aunt March. How does an actor of any age get over sharing a scene with Meryl Streep? "It's not like I'm bowing down to her on set," Pugh says. "Although mentally I am, but not literally."
So if Ari Aster were a character in Little Women, I asked Pugh, who would the horror auteur be? "I think he might be Amy," she laughs. "He's so opinionated and saucy, and knows exactly what he wants: to marry a rich man and do art on the weekends. And I'm the same."