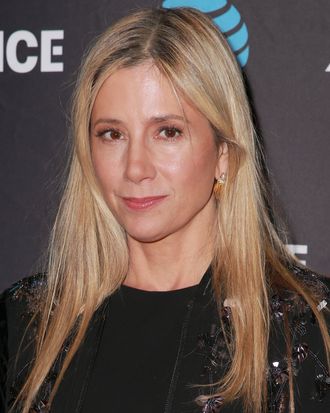 Photo: Rich Fury/Getty Images
Mira Sorvino, an early member of the #MeToo movement and one of Harvey Weinstein's accusers, revealed on Wednesday that she is also a victim of date rape. The actress was speaking at a conference with New York governor Andrew Cuomo, in an effort to drop the statute of limitations around rape in the 2nd and 3rd degree and to change the law to make it easier to prove harassment claims. This is the first time that Sorvino has spoken about this particular assault.
"I am doing it here to try and help, because there are all these survivors out there right now who need justice, who need to feel that they can take the time they need to sort through the trauma, to sort through the shame," she opened up. "Because I can tell you in situations of second-degree rape, which is what mine would constitute, you feel ashamed. You feel that somehow it was your fault."
Her honesty has already made a difference for sexual assault survivors. As one of the first actresses in the #MeToo movement, Sorvino alleged that Weinstein harassed her in 1995 and spread rumors to keep her from working. Over 80 women came forward with their own allegations against Weinstein. Now, he is due to go to trial in New York this fall to face sexual assault charges. He denies having any non-consensual sex.