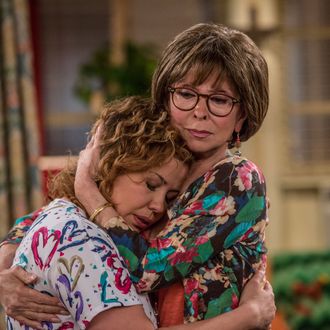 Photo: Michael Yarish/Netflix
Before you send another eulogy (and/or letter of complaint) to Netflix about the streaming service canceling One Day at a Time after three seasons, perhaps channel that energy onto this good news instead: It looks like a savior, who will not betray us, could be reviving the Inclán clan from small-screen purgatory after all. Per Deadline, the show's co-creator, Mike Royce, confirmed at this weekend's ATX Television Festival that other networks are circling the family sitcom, although he couldn't divulge too many details.
"All I can say is that there's hope — there's not not hope," he explained. "I've been through three 'save our show' campaigns. They didn't work. This is beyond miracle status. We just need to make sure it works out. We're talking and we hope to have news sooner rather than later." Actress Isabella Gomez added: "We are not dead yet. Let these networks know you want us back!" (We definitely have.) CBS All Access, Pop, and the CW are reported to have shown interest in saving ODAAT, although Netflix is apparently unenthused at the thought of the show moving to another network. Clingy ex alert.