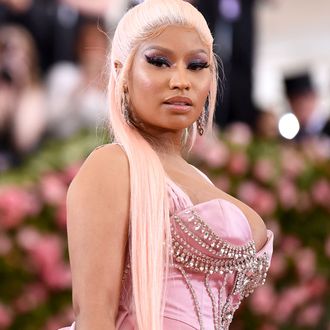 Photo: Jamie McCarthy/Getty Images
Everything old is new again, at least during Friday's installment of Nicki Minaj's Queen Radio. If you heard Miley Cyrus's new EP She Is Coming and thought, "There is no way Nicki Minaj is going to like that shout-out," well, you were right. Those who don't learn their 2015 VMAs history are doomed to repeat it. And while Miley's Nicki mention might have been pretty tame ("I love you, Nicki, but I listen to Cardi"), Minaj's response was not. "Perdue chickens can never talk shit about queens," she told the audience of her Beats 1 show. "She disrespected me in a magazine article for no reason. I had just seen her after she sucked Mike WiLL's dick in the studio." Producer Mike WiLL Made-It worked with Cyrus on her 2013 album Bangerz in addition to She Is Coming.
As for the four-year-old magazine article comments Nicki mentioned, that was actually the origin of their feud, if you'll recall. "Now you coming out with pink wigs," fumed Minaj. "All you bitches wanna be Nicki." Miley's recent purple-wig look is, of course, from an episode of Black Mirror, though the episode does involve her playing a pop star named Ashley O, who absolutely would (be forced to) lift ideas from Nicki, if it spelled success.
Sadly, all this suggests Miley Cyrus will not be getting a plus-one to Nicki's upcoming nuptials, which the "Megatron" singer also alluded to on Friday. Minaj said of her relationship with boyfriend Kenneth Petty, "We did get our marriage license."