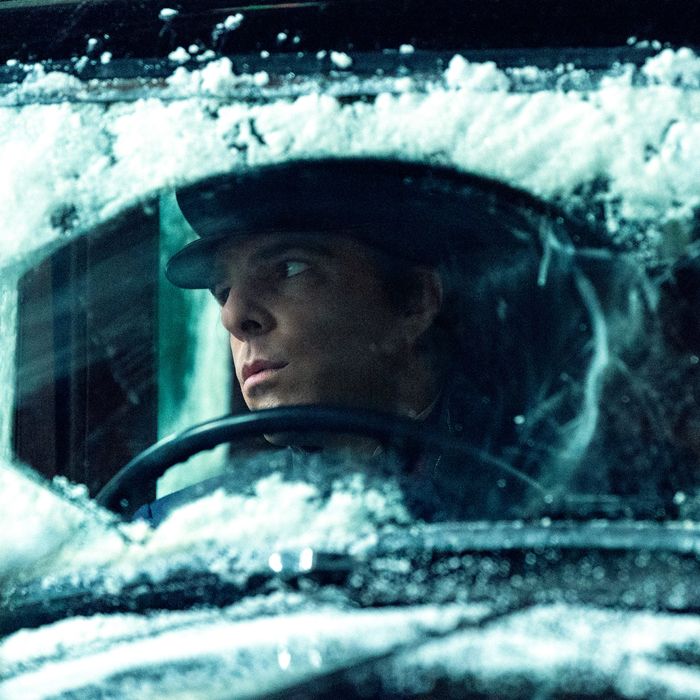 Cold opens don't get much more chilling than the first scene of AMC's new supernatural horror drama NOS4A2. Dropped into an oddly named town called Here, Iowa, we meet Danny, an adolescent boy spending the night alone while his mom hooks up with her boyfriend. Danny is pretty bummed about it.
And then suddenly, with all the fanfare of a Christmas miracle, Danny isn't alone anymore. "O Christmas Tree" starts to play through the static on his television. A candy cane shows up on his doorstep. And idling just down the street is a handsome classic car — a 1938 Rolls-Royce Wraith, to be exact — with a backseat jammed with beautifully wrapped gifts.
When Danny decides to climb into the car, the trap is sprung. As he sits locked inside, an intruder creeps around the house, eventually jamming a syringe into the boyfriend's neck. And when Danny's mom runs out into the yard to save her son, an attacker comes up behind her and snaps her neck.
Danny is understandably horrified at this sudden turn of events. But even as he sobs and screams in the backseat, the driver of the Wraith — a ghoulish 135-year-old man named Charlie Manx — assures him the worst part of his ordeal is already over. They're bound for Christmasland, a magical place "where every day is Christmas Day and unhappiness is against the law."
This is a fine opening for a TV series. The stakes are high. The action is tense and unnerving. And the audience is left with a million questions, starting with: Who is this creep? And what is Christmasland, anyway?
So it's a shame when, after the credits roll, NOS4A2 tables those interesting questions and reveals itself to be a show divided in two. On one hand, we have the bizarre, Christmas-themed kidnapping drama with the impossibly old man at its center. And on the other, we have a by-the-numbers broken family drama centered on a Massachusetts teenager named Victoria "Vic" McQueen.
In theory, this could be the thing that gives NOS4A2 the frisson it needs to stand out in a crowded landscape of horror dramas: The juxtaposition of the nightmarish and supernatural with the human-sized, kitchen-sink horrors of Vic's day-to-day life. (It certainly worked in the very long, very good Joe Hill novel on which NOS4A2 is based.) And while Ashleigh Cummings is clearly older than the high schooler she's supposed to be playing, she has the acting chops to credibly sell most of these beats.
The problem — at least in the pilot — is everything around Vic falls so flat. We meet her less than a year from her high school graduation. She's a bright student and a talented artist who dreams of going to RISD, but her blue-collar economic reality makes that functionally impossible. Her dad, Chris, is a demolition man and amateur mechanic, her mom, Linda, is a house cleaner (with a strangely broad New England accent), and neither makes enough money to propel Vic into the higher eduction or the upper-class lifestyle of her best friend Willa.
Vic is painfully aware that her situation isn't great. It gets worse by the end of the pilot, when she discovers her father has physically abused her mother, then abandoned the family to shack up with a younger woman.
Much of the NOS4A2 premiere is spent heaping misery onto Vic so she can break away and discover her own superpower. To amp up the drama to that point, NOS4A2 makes most of the people around Vic into one-dimensional cartoon characters. One snobby rich kid introduces himself by making a crack about alcoholic townies. Another straight-up says Vic's parents must be stupid. And when Vic understandably excuses herself from spending any more time with these ghouls, Willa's mom tactlessly pulls Vic aside — in the middle of a boozy party — to suggest that Vic and Linda should head to a nearby women's shelter to get away from Chris.
With friends like these, who needs Charlie Manx? So Vic rides away from it all on her dirt bike and discovers an old covered bridge called the Shorter Way, which inexplicably appears despite her father claiming he demolished it 15 years earlier. She quickly discovers that the Shorter Way is a kind of portal; if something is lost, she can cross the bridge and find it.
In the premiere, Vic is still wrapping her head around her bizarre new superpower. But it's not hard to imagine how the Shorter Way could, hypothetically, be very useful if you were trying to track down a kidnapped child (whose name, hypothetically, might be Danny).
But NOS4A2 has a whole season to get to that. For now, Charlie Manx is in total control. And as the premiere ends, it suddenly becomes clear why NOS4A2 slathered Zachary Quinto in old-age makeup to play the ancient-looking villain we met in the opening scene. The vanity plate on Manx's car (and the title of the show) isn't just a cute pun on cinema's most beloved Dracula rip-off. Manx really is a vampire. He just subsists on energy, not blood. By the end of the episode, he looks decades younger, having sapped the life from the young boy he kidnapped. And Danny has morphed from a scared kid into a grinning little demon child, complete with a terrifying row of razor-sharp teeth.
It's a promising cliffhanger that hints at the dark places NOS4A2's first season might be willing to go. At the end of the premiere, NOS4A2 is one half of a very handsome, very weird horror drama. But a collision is clearly on the horizon, and if the story keeps accelerating at this pace, the other half will catch up before long.
Detours
• Standard reminder up top: There are big plot points in Joe Hill's novel that don't come up at all in the first episode of the TV adaptation. If you've read NOS4A2, please don't spoil any of the story's twists and turns in the comments below. Just be cool.
• In a third subplot that doesn't really pay off by the end of the pilot, we meet Maggie Leigh, a librarian with her own superpower: She can use Scrabble tiles to receive cryptic-but-true messages from the ether, which has made her an asset to the local police department's unsolved crimes division. By the end of the episode, Maggie has used them to discover that Danny has been taken by THE WRAITH, and that she can count on THE BRAT — Vic's nickname — to help her as she tries to track him down.
• The first two episodes of NOS4A2 were directed by Kari Skogland, a TV vet with credits on the similarly dour AMC dramas The Walking Dead, Fear the Walking Dead, and The Killing.
• Showrunner Jami O'Brien also has a long history with AMC, working as both a writer and producer on Hell on Wheels and Fear the Walking Dead.
• Our quick glimpse at the other locations on the Map of Inscapes offers a slew of easter eggs for Joe Hill and his father, Stephen King. The Pennywise Circus is a nod to King's It. The Treehouse of the Mind is from Hill's novel Horns. And the Lovecraft Keyhole is from Hill's comic series, Locke & Key, which is about to get its own small-screen adaptation on Netflix.
• The name of Manx's ill-fated travel companion, Mr. Ives, is probably a Christmasland-themed nod to the man who voiced Sam the Snowman in Rankin-Bass's stop-motion animated classic Rudolph the Red-Nosed Reindeer.
• And while we're on the subject: We're only briefly introduced to Bing Partridge, the friendly custodian at Vic's school, but his name — which consists of two separate Christmas references — would surely make Charlie Manx smile.
• More fun with names: Vic shares a surname with actor Steve McQueen, who famously rode a motorcycle in The Great Escape.
• The premiere is dedicated to James "Faz" Lafazia, who worked on both NOS4A2 and Hulu's Stephen King pastiche Castle Rock.
• Manx teases Danny about a game he'll get to play in Christmasland. It's called scissors-for-the-drifter. Sounds like fun!