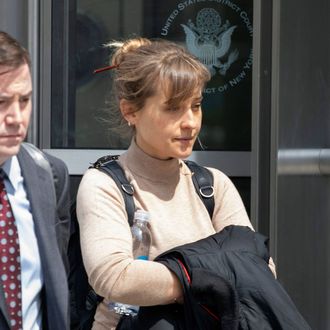 Allison Mack.
Photo: Mark Lennihan/AP/Shutterstock
Troubling new details have emerged in reports about Smallville actress Allison Mack's role in luring victims to NXIVM, a purported sex cult in upstate New York.
One alleged victim, an aspiring actress from California, said Mack asked her to join NXIVM during an Ace Hotel meeting, according to the New York Times.
The woman, referred to only by her first name, Nicole, said she was struggling in New York City at the time and that Mack's television success had made an impression on her.
Mack falsely peddled NXIVM as a way of reaching goals, and brought Nicole on as a "slave." She eventually got access to Nicole's private information and used it as a means of control, the Times reports.
In April, Mack pleaded guilty to two federal counts related to her involvement in NXIVM. The group's alleged leader, Keith Raniere, is presently on trial in Brooklyn federal court for a variety of charges, including sex trafficking.
Prosecutors have said that Mack served as a "master" for Raniere's secret NXIVM sect, called DOS. As a "master," Mack recruited "slaves" and then "directly or implicitly required her slaves … to engage in sexual activity with Raniere."
Nicole's story seems to reflect prosecutors' narrative.
Nicole claims that Mack brought her to an Albany suburb close to NXIVM's campus. Mack instructed Nicole to tell Raniere that she would follow any of his orders. Mack also allegedly ordered Nicole to stop hooking up with an ex-boyfriend and demanded that she be celibate for three months, per the Times. Nicole, who was staying with Mack, began taking walks with the now-disgraced actress and Raniere.
"Now go be a good slave," Nicole recalled Mack saying at one point, the Times reports.
Nicole alleged that Raniere blindfolded her and brought her to a house the following day. Raniere demanded that she take off her clothing and allegedly tied Nicole's ankles and wrists to a table, the newspaper said.
As Raniere walked around the table, asking questions about her sex life, another person performed oral sex on her, Nicole alleged on the witness stand.
"I was so confused," Nicole testified. "It's terrifying."
Nicole "didn't think that there was an option," she told jurors, the Times reports.
Raniere lauded her bravery after the incident, Nicole said. When Nicole told Mack about the alleged encounter, "she also said I was brave … I think she also said I had earned working more with Keith," the report says.
Neither Raniere nor Mack's lawyers immediately responded to requests for comment.
Update, June 11, at 5:06 p.m.: Today, a model-actress based in Los Angeles said her fascination with Raniere turned into a "nightmare" when Mack told her to seduce him, according to the New York Daily News.
This actress, identified in court as "J," testified that she "had to have Keith take a naked picture of me … It was basically my worst nightmare come to life."
"I was told other women had done this — only privileged women had the honor, had been given that assignment," she said, per the Daily News.
J, who claimed in court that she had suffered sexual abuse, reportedly alleged that Mack said, "This is going to help you get rid of all of the sexual abuse trauma."
According to the Daily News, J recalled Mack saying, "I give you permission to enjoy [the sex]."
"Internally, I was like, you fucking bitch," J said, according to the report.
J, who claimed she never had sex with Raniere, then informed Mack that she was leaving NXIVM.
"Honestly, that special assignment really creeped me out," the Daily News reported J saying.