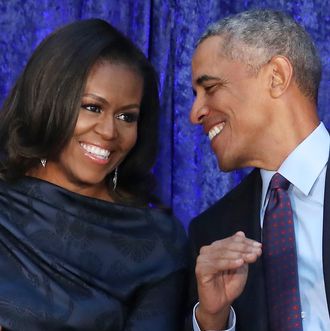 Michelle and Barack Obama.
Photo: Mark Wilson/Getty Images
When he's not hanging with the fans at the NBA Finals or performing the various stately duties expected of a former president, Barack Obama, along with former First Lady Michelle Obama, have turned to doing what a lot of famous people tend to do: make content. Last summer, the Obamas signed a multiyear deal with Netflix to develop a portfolio of movies and television shows for the all-consuming video-streaming platform through a newly created production studio they're calling "Higher Ground."
Today, the Obamas' production studio announced an expansion into audio and podcasts, and it comes under the auspices of another new multiyear agreement with another all-consuming streaming platform: Spotify. No concrete details yet on any of the projects that will be developed — the official language so far says they will "develop, produce, and lend their voices to select podcasts, connecting them to listeners around the world on wide-ranging topics" — but the deal does mean that the upcoming Higher Ground audio shows will be exclusive to the Spotify platform.
This partnership is also the latest buzzy development in Spotify's ongoing efforts to establish itself as a force in the podcast world. Earlier this year, the company spent almost $400 million to acquire three podcast companies (Gimlet Media, Parcast, and Anchor), hired a new head of creative development for podcasts (Liz Gateley, a longtime television executive), and have begun experimenting with new versions of its app interface to better emphasize its podcast inventory. For what it's worth, we highly doubt this will be the only big-name partnership we're going to hear about in the podcast industry's future.