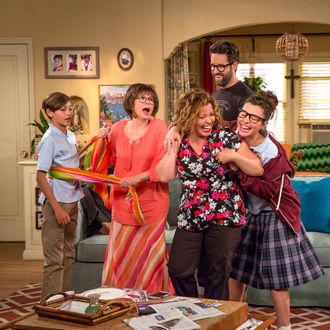 Photo: Michael Yarish/Netflix
Dale, Pop TV, dale! Four months after Netflix canceled One Day at a Time, Vulture has learned the sitcom is getting a new life on the CBS Corporation–owned cable network best known as the American home of Schitt's Creek. Pop has green-lit season four of the Sony Pictures TV–produced comedy, ordering 13 episodes for a 2020 premiere in what appears to be the first-ever example of a streaming series shifting to cable. Vulture broke the news of Pop's pursuit of ODAAT in April.
While the first three seasons of ODAAT will stay on Netflix, going forward the series will be branded as a Pop original. What's more, in an innovative twist designed to make the finances work for all parties involved, the deal includes a provision that will allow Pop's corporate cousin, CBS, to air an encore run of ODAAT season four later in 2020, once that season ends on Pop. Pop is also getting linear rights to the show's first three seasons, giving it the chance to use those earlier seasons as a promotional tool to market season four.
The agreement is a victory for the show's vocal and social media-savvy fan base, as well as for executive producers Norman Lear, Gloria Calderón Kellett, and Mike Royce, who have been fighting to keep ODAAT alive even before Netflix officially walked away from the show in March. It also represents a big win for the scrappy Pop and its president, Brad Schwartz, along with CBS Corporation chief creative officer David Nevins, who became an early champion of finding a place for ODAAT under the Eye umbrella once Netflix abandoned it. And for Sony, the independent studio that in past years managed to "save" canceled projects such as Community and Timeless, the deal once again underscores to potential producers its willingness to fight to keep underdog shows alive. "[Sony] was relentless, and we're so grateful," Kellett told Vulture Thursday morning.
Initially, industry speculation centered around the possibility of ODAAT moving to the CBS Corporation's streaming platform, CBS All Access. But at the same time that some were touting All-Access as a home for ODAAT, Pop execs were making a strong push to land the show. It soon became clear that All-Access was out of the running, since Netflix had no intention of letting Sony out of a contractual clause that blocked the studio from selling ODAAT to another streaming service for several years. No such language prevented the show from moving to a traditional linear network such as Pop, however. "As soon as we heard the show was canceled we all looked at each other said, 'Oh my God, this show has so much life left in it. Is this something we could go after?'" Shwartz told Vulture.
The timing proved fortuitous for this deal on at least two fronts. First, the same week Netflix canceled ODAAT, CBS Corporation announced it was taking full control of Pop, buying out former partner Lionsgate TV. With CBS Corporation now the sole owner of the channel, Nevins suddenly had much more incentive to give Pop extra money to spend on a series as relatively expensive as ODAAT. Secondly, Schwartz was already trying to figure out Pop's post-Schitt's Creek future following the March announcement by the show's producers that the sixth season would be their last. While Schitt's and ODAAT are very different shows in some respects, both feature diverse casts and optimistic storylines, along with a fiercely devoted audience base.
"When we looked at the success we've had with Schitt's Creek, we felt that was because of how it championed love and kindness, and how it has a lot of emotion mixed with a lot of heart and comedy," Schwartz said. "And when you look at One Day at a Time, you see it does the same [thing]. They deal with inclusion and love and acceptance and family. They pull on your emotions and they make you laugh. There are such parallels to what helped Schitt's Creek break through on Pop." Bottom line: Even if their respective audience bases don't overlap 100 percent, having ODAAT on the roster means Pop won't be up a creek once Schitt's signs off. "Pop is now the home to two of the most critically praised and fan-adored comedies in all of television, bringing even more premium content to basic cable," Schwartz said in a statement officially confirming the deal.
For their part, Kellett and Royce said they believe Pop will prove to be a perfect fit for their series. "We're both Schitt's Creek fans, so when we heard Pop [was pursuing the show], we said, 'If that's the type of content they're doing — strong stories of love and acceptance — then yeah, great, we're thrilled,'" Kellett said. Added Royce, "We really seem to fit in with their brand, with their philosophy of the network."
Based on early discussions with Pop, the producers also seem confident they won't need to change much about the show to fit into the linear landscape of Pop, save for writing stories toward act breaks in order to make room for commercials. "They have assured us we can make the show we want to make," Kellett said. "And writing toward act breaks is actually an exciting challenge we're sort of looking forward to."
In a statement, Lear said he was "overwhelmed with joy to know the Alvarez family will live on," and thanked Pop and Sony for making it so. "Three months ago, I was heartbroken with the news of our beloved One Day at a Time's cancellation," Lear said. "Thank you to my producing partner, Brent Miller, our incredibly talented co-showrunners, Mike Royce and Gloria Calderón Kellett, and of course, Sony, for never once giving up on the show, our actors or the possibility that a cable network could finally save a cancelled series that originated on a streaming service. And one last thank you to Pop for having the guts to be that first cable network. Even this I get to experience — at 96."
As for Sony, finding a way to keep ODAAT alive was a priority for the studio as soon as Netflix pulled the plug. "It's really important to us," Sony Pictures Television president Jeff Frost told Vulture. "The same day we heard from Netflix, we started reaching out to everyone we could reach out to." Because Sony is an independent studio — it doesn't own its own broadcast network or major cable network — it for years has gone the extra mile to find homes for series or pilots passed over by networks, part of a bid to convince producers to make their shows at Sony. "We believe in our shows," Frost said. "As long as there is story to tell we want to make sure producers can tell that story."
As for the portion of the deal giving a CBS a window for reruns, while it wasn't central to bringing ODAAT to Pop, it certainly helped make the financials of the agreement more logical for CBS Corporation, since the company can spread the show's cost across multiple networks. None of the parties involved in the deal would talk specifics, but the new season of ODAAT won't be cheap. "It's a big swing for Pop," Schwartz said. "But it's not like we haven't reached before with shows like Flack. Having said that, this is a little bit of a farther reach. But Sony really came to the table. Everyone was so passionate about this show, and everybody was willing to make it work."
Under Sony's Netflix deal, the streamer — as it does with all of its shows — paid the full cost of production plus a premium fee, essentially giving Sony its backend syndication money upfront. Frost confirmed that the deal with Pop will be a more traditional TV deal, under which Sony will deficit finance a part of the overall cost of production, with Pop making up the rest. "It's still a healthy license fee," Frost said. "But we worked with our [syndication and international] division to make sure we could monetize the show in other ways. That includes international distribution of the show and, at some point in the future, selling season-four streaming rights to a subscription video-on-demand service." Frost confirmed the production budget for season four will be reduced a bit, but "nothing that is going to reduce the quality of the show."
One challenge of the three-month period of uncertainty over ODAAT's future is that several of the show's writers signed on with other shows. "A lot of our writers were snatched up as soon as we were canceled," Kellett said, noting many of them were women or members of the LGBTQ community. "We're sad, but we're also excited that they're being lifted up. And Mike and I have already been reading a bunch of great writers, some really exciting people. So we'll have some original staff and some fresh talent that we can show the ropes."
In terms of how long ODAAT will run on Pop, Schwartz made it clear his goal is to keep it on the air for many years to come. "I hope it becomes our huge flagship series that goes on for five, six, seven seasons. That would be the dream," he said. Kellett concurred, saying she and Royce "have been texting each other" during the past three months trading stories about their own families they're already envisioning as future plots for the show. "And Rita isn't going to stop even after seven seasons," Royce quipped. "She and Norman will be doing this show in season 15."
Kellett said there was "lots of screaming and joy" when she and Royce broke the news of the Pop pickup to the cast. "There was lots of swearing with [Rita] Moreno," Kellett said. "And when we told Todd Grinnell," who plays Schneider on the show, "He literally said, 'Oh, now I can turn my lights back on,'" Kellett joked. Grinnell, Moreno, and stars Justina Machado, Isabella Gomez, Marcel Ruiz, and Stephen Tobolowsky are all set to return.
"I'm so grateful to all the fans who've been so vocal about how important the show is to them for so many reasons," Grinnell said. "We're a show about family and love that represents so many groups of people and I'm so honored and thrilled we get to keep telling stories that matter."
While the CBS portion of the deal was mostly about money, ODAAT also offers an upside for the Eye network, which will now have a young-skewing, diverse multi-camera comedy available to air in place of reruns of its existing half-hours at some point in 2020. This should prove particularly helpful if CBS airs its ODAAT run in the summer of 2020, since next summer will be the first in over a decade the network won't have reruns of The Big Bang Theory on its lineup. This year, CBS is experimenting with a similar idea by airing season-one episodes of the CBS All Access drama The Good Fight on Sundays. Just as Fight has roots at CBS (the show is a spin-off of the Eye's hit drama The Good Wife), the modern-day One Day at a Time is itself a reboot of a 1970s CBS sitcom of the same name, making next year's run of the show a homecoming of sorts. Airing the new ODAAT on CBS should also be a lot easier than putting on Fight: While the latter featured explicit language and sex that needed to be trimmed to make it acceptable for broadcast TV standards, ODAAT has — save for the stray four-letter word — always been produced as a family-friendly show that could easily have aired on a broadcast network.
Additional reporting by Maria Elena Fernandez.