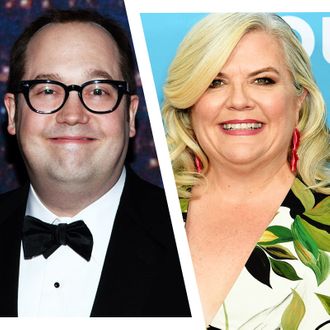 John Lutz and Paula Pell.
Saturday Night Live vets Paula Pell and John Lutz are pairing up for a new murder-mystery comedy in the works with the backing of Seth Meyers and Lorne Michaels. According to Deadline, the team is behind a series titled Mapleworth Murders that Pell and Lutz co-wrote and will star in together, which is in the works at Jeffrey Katzenberg's forthcoming short-form-video platform, Quibi.
The show follows Pell as Abigail Mapleworth, "a murder-mystery writer who solves homicides in her quaint small town of New Woodstream. Each episode of the comedic crime procedural will feature guest victims and suspects as we answer the bigger question of the series: Why the hell are there so many murders in one small town?" Meyers and Michaels are among the executive producers on the show.
Pell and Lutz working on comedy projects with fellow SNLers is nothing new. Pell wrote the 2015 film Sisters, starring Amy Poehler and Tina Fey, and recently appeared alongside them in Netflix's Wine Country, while Lutz was a regular on Fey's 30 Rock and has been a regular writer-performer on Late Night With Seth Meyers since it debuted back in 2014. Quibi isn't slated to launch until April 2020, however, so let the long wait for Paula Pell, expert murder-mystery solver, commence.