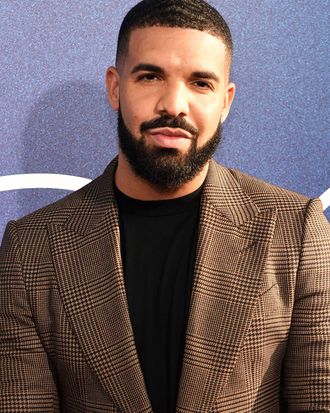 Drake.
Photo: Chris Pizzello/Invision/AP/Shutterstock
Look, the NBA Playoffs are over and Drake can now focus on business, music, and his favorite pastime: flexing. Success is typically 1 percent inspiration, 99 percent perspiration, but according to Drake's back-to-work photo shoot, for him it's more like 99 percent posing, 1 percent posting. The rapper shared a series of Instagram posts on Wednesday, titled "Album Mode." (One photo series is titled "Spritzer Season," which, true.) They were shot by Jamil GS, who's done icons like Mary J. Blige, Jay-Z, and Queen Latifah. Those photos are actually available for purchase for thousands of dollars. Drake's are on Instagram.
"Album Mode" features Mr. Champagne Papi in the Turks and Caicos hanging both by the ocean and in a pool that's 20 feet from the ocean. Not typical work settings, but we trust the process.
Drake solidifies himself as a white-wine king. Regular, with a little carbonation, he'll have it both ways. Now he just has to weigh in on the Great Aperol Spritz Debate of 2019.
Playing golf falls right in line with Drake thinking he's an NBA player. Once the Playoffs drama dies down, he and Steph Curry should hit the links. Er, wait, we can't take that phrase seriously. Play golf. They should play golf together.
Finally gonna get some work done! These next "Album Mode" shots are from Toronto, where Drake's office is apparently based. One shows him and his crew at the OVO Athletic Center, standing in front of a car with an open trunk. They're not even butterfly doors or Tesla falcon wings, so, personally, we don't feel that flexed on.
The other shots are inside Drake's office. In the one that doesn't feature an indoor basketball court, Drake pretends to take a phone call while putting away his wallet. A massive portrait of Beyoncé smiles down on him. Did Beyoncé say Drake could have a portrait of her in his office? We need to see the email correspondence. Is there one of Jorja Smith in a back closet or something? And when did he have time to work on the album? After the front nine?