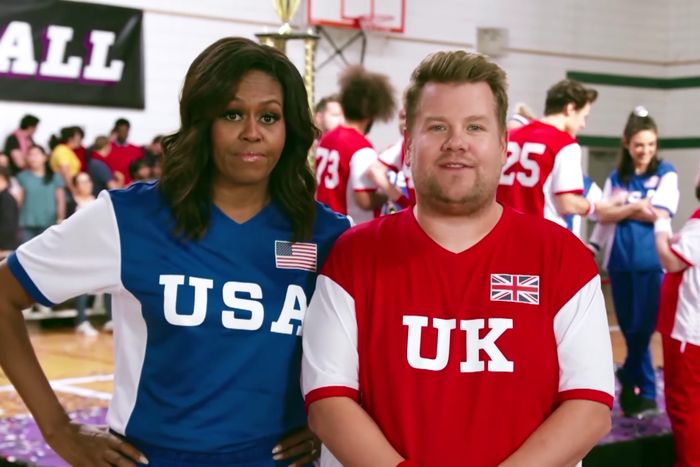 Michelle Obama and James Corden on
The Late Late Show
.
Photo: YouTube
Something happened this week that doesn't usually happen for me: Everyone on my Twitter feed was talking about a late-night moment. Specifically, the moment former First Lady Michelle Obama threw a crotch shot at former One Directioner Harry Styles. This is the goal of late-night TV: to be discussed in the daylight hours by friends and strangers alike.
The tweet that made the video take off wasn't provided by The Late Late Show's social media team, but instead an MCU stan with a fondness for Thor: Ragnarok. Which is ironic because Thor himself was in a video for James Corden later in the same week. Corden always goes all-out for his hometown weeks in London. Tom Hanks sang the Beatles, echoing last year's Paul McCartney Carpool Karaoke. "Crosswalk the Musical" did Les Mis in Paris, even though Paris is famously not in London. Every week of a talk show has celebrity guests, but this week Corden studded his show with more stars than usual. It was like the show was throwing keywords on the wall of the internet and seeing what stuck. And maybe because everyone is going to have to get aggressively political next week, the other chat shows were almost as stunt-heavy as Corden.
Kevin Bacon tried to make a moment on Late Night With Seth Meyers by shaving his City on a Hill mustache off on air. Unfortunately, he didn't think about reshoots before doing it. Watching Kevin Bacon frantically two-fist disposable razors in pursuit of seeming "fun" chilled me to my core, especially since he didn't know Rihanna was going to be day drinking on the show later that week. Rihanna excels at day drinking. There's no way that's not content. The cruel irony of trying so hard when Riri is in the wings, about to not try at all and still get more clicks!
Jimmy Kimmel Live! has figured out a viral formula, which means they never have to go full Bacon and depilate on air. Kimmel invites the everyday stars of viral videos on his show, piggybacking on their SEO while also giving them a moment in the sun. An assistant manager at a pizza place caught a pizza with his bare hands, slightly burning his wrist and warming all our hearts. Kimmel gave him gold-plated oven mitts and tried to get California governor Gavin Newsom involved somehow. That didn't pan out, but Kimmel has succeeded in making this format his own. Few late-night hosts have workaday rubes on their shows anymore. People in the audience get roped into bits with varying levels of enthusiasm, but normal folks are rarely invited on the show. Although Stephen Colbert did let a random goatherd on his show this week to talk about 9/11 first responders.
I wonder whose idea the "Jon hides under the desk" bit was. Probably Jon's? He's done it before, and it works for me. A late-night host's desk is an underutilized prop. Colbert hides booze back there for whenever Jennifer Lawrence shows up, but other than that it's just a thing to lean on and/or slam one's fists upon. Stewart knows that his mug on The Late Show will bring attention to the complete moral turpitude of Mitch McConnell. Over on TBS, Samantha Bee delivered a wonderful summary of McConnell's decades of persnickety, rule-obsessed moral bankruptcy, but Stewart got the news roundups.
There was one more notable moment of late-night virality this week: A woman participated in The Tonight Show's hashtag game and told Jimmy Fallon about her personal #WeddingFail. Her mother-in-law wore a wedding dress to her wedding.
Hopefully romance novelist Amy Pennza has sold some books from this Twitter fame, but recognition is not going to come from less than 20 seconds of TV self-debasement. That's a question that has been nagging me this week since the Michelle Obama nard shot. Who benefits from these viral moments, and whose brands are hurt? Surely Obama doesn't need the attention that slamming Harry Styles in the nuts brings. She's got Netflix and podcast deals, and her book is a best seller. Will Jon Stewart yelling on CBS really get Mitch McConnell to do the right thing? Nothing gets Mitch McConnell to do the right thing! Two days after Stewart went on The Late Show, McConnell wasn't meeting with 9/11 first responders, he was saying heinous shit about reparations on Juneteenth of all days. Stewart obviously had fun being in front of an audience again, and Michelle Obama loves being active. So at the very least, there was some job in the means, even if the ends aren't reached. That's a good thing for any celeb to keep in mind: If you don't like the dodge, don't play ball.