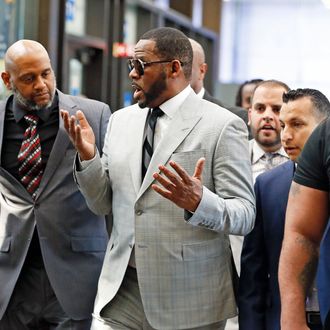 R. Kelly.
Photo: Nuccio DiNuzzo/Getty Images
R&B singer R. Kelly, who is facing multiple sexual assault charges in several states, has pleaded not guilty to 11 new charges in Cook County, Illinois. The new charges, two counts of criminal sexual assault by force, two counts of aggravated criminal sexual abuse, and three counts of aggravated criminal sexual abuse against a victim between the ages of 13 and 16, were announced just last week. The four counts of aggravated criminal sexual assault have a sentence of up to 30 years. As Class X felonies, these are the 52-year-old's toughest charges yet. Kelly's lawyer, Steve Greenberg, left the courthouse saying he still expects to prevail.
In February, R. Kelly pleaded not guilty to ten related counts of sexual assault of four women, three of which were minors during the ten years of abuse in the 1990s. The new charges have been brought about by one of the three minors. Kelly still faces investigations in Georgia, New York, and will be back in Illinois at the end of the month.