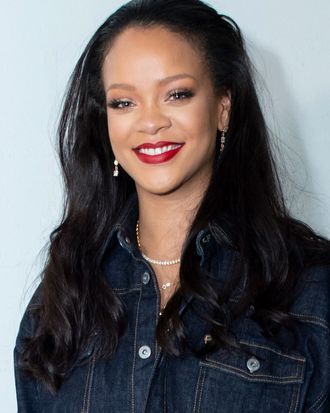 Rihanna.
Photo: Kristy Sparow/Getty Images For FENTY
Time to define the relationship with your summer fling because if Rihanna is in love, we're all in love. We are settling down, y'all! Find a man with a yacht, launch your five start-ups, and don't even think about getting in the studio for at least three years because the Grammys will snub you anyway. Whew. Rihanna — in between running her lingerie line, starting a designer fashion label, taking over the cosmetics industry, and, yes, working on her reggae album — has fallen in love. But that's pretty much all she'll say. In an Interview interview with her Ocean's 8 co-star Sarah Paulson, Rih begged for a "fucked up" question.
PAULSON: Who are you dating?

RIHANNA: Google it.

PAULSON: Are you in love?

RIHANNA: Of course I am.

PAULSON: Are you going to get married?

[Pause]
Pause. Pause?! Pad your savings account because apparently we're getting married, too! Her actual answer was "Only God knows that," which is exactly what a woman says in the months before she gets engaged. She knows that she's been dropping not-so-subtle hints and that it'll happen any day now. The multi-hyphenate has been dating businessman Hassan Jameel for around two years, after incredible photos of them making out by a pool went viral. They recently spent some time in Italy on a boat so big we can only assume it had a fully functional recording studio with Supa Dups on speed dial.