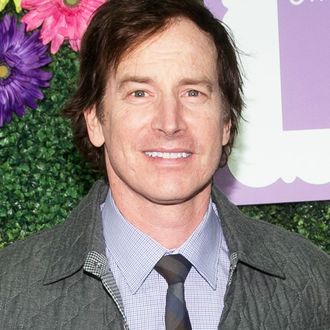 Rob Huebel.
Photo: Gabriel Olsen/Getty Images
Childrens Hospital alum Rob Huebel might get to star in his very own Comedy Central show. According to Deadline, the network has handed out a pilot order for a half-hour series starring Huebel called Chasers. Written by Robert Ben Garant, Cathy Shim, and Kevin Healey, the show is "set in the world of the after dark, independent news video hunters of Los Angeles," who are described as "just a notch below the paparazzi on the food chain."
Huebel will play Steve "Crash" Byrd, "the owner and leader of the misfit crew of Chasers" who are tasked with hunting for shocking footage to sell to news outlets: "There's not a car crash, police chase, celebrity DUI, convenience store smash and grab, baby bear in a swimming pool, or taco truck fire they won't race to. Every night out on the streets, there are winners and losers. But, mostly losers. And this is their story."
In addition to the Comedy Central pilot, Huebel is starring alongside Erinn Hayes in an upcoming Netflix comedy series called Medical Police, written by David Wain, Rob Corddry, Krister Johnson, and Jonathan Stern, set in a pediatric hospital in São Paulo, Brazil. Corddry, Malin Akerman, Lake Bell, and Ken Marino will all have recurring roles in the show, so if you're a Childrens Hospital fan hoping for a reunion, Medical Police sounds pretty damn close.